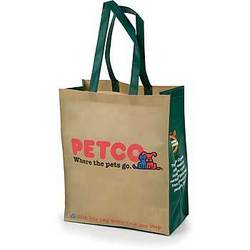 By buying and using reusable bags, PETCO customers make a significant contribution to sustaining the environment and to supporting thousands of local animal welfare groups we work with across the country
San Diego (Vocus) April 22, 2008 –
At PETCO green is in and so are the company's reusable shopping bags, which are a hit with pet parents looking for environmentally friendly solutions for themselves and their animal companions.
This Earth Day, PETCO and the PETCO Foundation remind all pet-loving customers that by purchasing and using reusable PETCO bags they make a meaningful contribution to protecting the environment – and supporting animals in need.
Since PETCO introduced its reusable shopping bags late last year, customers have purchased more than 25,000 bags at PETCO stores and online. The reusable bags were initially carried only in PETCO's stores with Natural Food Shops, but due to popular demand they are now available at the more than 900 PETCO stores nationwide and online. The bags are made of recyclable materials that have the look and feel of cloth. They sell for $1.99 – with $1 of the purchase price going to the PETCO Foundation.
"By buying and using reusable bags, PETCO customers make a significant contribution to sustaining the environment and to supporting thousands of local animal welfare groups we work with across the country," said Paul Jolly, foundation director and vice president.
PETCO stores and PETCO.com also offer a great selection of natural and organic pet foods, and a wide assortment of environment-friendly pet care products, including pet toys, accessories, cat litter and cleaning supplies.
To learn more about the PETCO and the PETCO Foundation, visit http://www.petco.com. To get the latest news on anything and everything PETCO – from updates about the company to incredible acts of animal kindness – visit the company's blog at http://www.petconews.com.
About PETCO and the PETCO Foundation
PETCO is a privately held specialty retailer that provides products, services and advice that make it easier for our customers to be great pet parents. We operate more than 900 stores in 49 states and the District of Columbia, as well as a leading pet products and information destination at http://www.PETCO.com. Our nonprofit organization, the PETCO Foundation, has raised more than $41 million since its inception in 1999 to help promote and improve the welfare of companion animals. In conjunction with the foundation, we work with and support nearly 5,000 local animal welfare groups across the country to help find homes for more than 200,000 adoptable animals every year.
Contacts:
Marta Karpinska-Dean, PETCO
858.444.5575
martak(at)petco.com
###