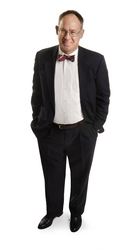 Attorneys from across the nation joined us for Takacs' first workshop here last year
Charlotte, NC (PRWEB) April 23, 2008
On May 9, 2008 Charlotte's aro will present a half-day workshop specifically for attorneys, entitled "The Future of Elder Law," at the Renaissance Charlotte Southpark Hotel. Nationally recognized Elder Law Attorney Tim Takacs returns to Charlotte for his second such workshop event, but will be joined this year by co-presenter Nicole Vandiver Bryan. Bryan is also an Elder Law Attorney with the Estate & Elder Law Firm of Vandiver & Bryan of Cornelius, NC. "Attorneys from across the nation joined us for Takacs' first workshop here last year," remarks aro President Chuck Robbins. "Clearly there is a demand for more education on Elder Law in this area."
The reference to "the graying of America" is one hitting closer and closer to home for our nation's middle-aged. As this demographic takes on the task of managing the long-term care of aging parents, they are frequently turning to the legal community for help. The result is a boom in the field of Elder Law as attorneys respond to an influx of clients seeking assistance in navigating the complex maze of public benefits and solutions for their loved ones - while protecting their own financial futures.
"The field of Elder Law is growing up alongside a generation of adults who find themselves caring for both aging parents - and their own children," comments Takacs. "The legal community simply must stay current with what assistance is available for families and how to access that assistance."
Takacs, author of "A Guide to Elder Law Practice," is nationally recognized for his pioneering work in this emerging field of Law. He is credited with being one of the first Elder Law attorneys in the nation to assemble an interdisciplinary team of experts to provide integrated client care. His innovations have "transformed the practice of Elder Law in the US" and "have set a new standard of excellence in the field."
A 1999 graduate of Campbell University with a BA in Political Science from UNC-Chapel Hill, Bryan will offer her expertise and perspective on this important topic. "We saw our participation in this event as a must-do for our community," states Bryan. "Today Elder Law Attorneys are a critical part of putting together a Life Care plan that works." The Estate & Elder Law Firm of Vandiver & Bryan is also a sponsor of a public breakfast event preceding the attorney workshop, featuring Takacs.
Attorneys currently or interested in expanding their Elder Care/Law services are encouraged to attend. Attendees may earn 3.0 CLE credits. For details on this workshop or to register click here for
registration information.
For details on the public breakfast event or for reservations, call aro at 1.888.267.1297 or visit http://www.consultaro.com.
Sponsors for the event will be on hand with adjunct information on services related to the issues of aging. Sponsors include: The Estate and Elder Law Firm Vandiver & Bryan; as well as The Brian Center; Sunrise Senior Living; The Estate Lady Julie Hall; Hospice and Palliative Care, Charlotte Region and the Alzheimer's Organization of Charlotte.
About aro
A marketing services and consulting boutique, aro offers research, marketing planning, branding and public relations. The firm specializes in providing these services for small businesses in a variety of industries, including real estate, emerging technology, retail, sports, entertainment, financial services and human capital companies. Visit the aro web site at consultaro.com, or contact Chuck Robbins.
###