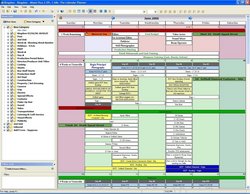 Reusing lesson plans from year to year and linking allows me to improve each year without starting from scratch and saves tons of time
Beverly Hills, CA (PRWEB) April 25, 2008
Reel Logix Showcases The Calendar Planner at Tech Ed, the world's leading hands-on Technology in Education conference and exposition.
Tech Ed is a K through 20 educational event that brings thousands of educators and administrators together to share best practice solutions, educational software and cutting edge innovations for succeeding in today's educational horizon and preparing for the classroom of tomorrow.
"Due to The Calendar Planner's appeal in Education it made sense for us to participate in this show. The Calendar Planner was definitely a hit with both Educators and Administrators alike. The ease of use, appointment scheduling and ability to rapidly adjust to change were seen as big productivity boosters by those we demonstrated the software to. The flexibility to manage multiple types of schedules and color and style were also very well received," said Randy McGowan, CEO Reel Logix, Inc.
The Calendar Planner is used in many industry verticals such a Film and TV, Retail, Government, Non profits, Construction and has seen dramatic growth in usage in the Educational industry as well.
The Calendar Planner can be deployed easily with minimal to no need for IT and users can be up and running, creating schedules in minutes. Combined with the Educational Software Discount offered by Reel Logix, the software provides this at a very reasonable price.
"Reusing lesson plans from year to year and linking allows me to improve each year without starting from scratch and saves tons of time," Scott Sumpter, Cascade High School
About Reel Logix Inc
The founders of Reel Logix Inc., have over 40+ combined years of software development expertise in the corporate Aerospace, Technology and Entertainment industry. The company is well known for its flagship products, The Reel Production Calendar, designed to manage prep, production and post for Film, Television and Commercial productions and The Calendar Planner, designed for scheduling in any industry.
For more information visit http://www.thecalendarplanner.com
Direct media questions to: Public Relations Reel Logix Inc media @ reellogix.com
###