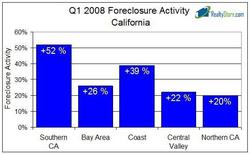 Santa Barbara, CA (PRWEB) April 29, 2008
RealtyStore, (http://www.RealtyStore.com) the nation's leading provider of foreclosure listings, released its quarterly California Foreclosure Report for January, February, and March 2008.
The RealtyStore Quarterly California Foreclosure Report covers all counties and provides the total number of Notices of Default (NODs) statewide.
RealtyStore recorded 116,644 Notices of Default (NODs) statewide for Q1 2008. This was a 38% jump from those recorded in Q4 2007. An NOD is filed by the lending institution when a homeowner falls behind on mortgage payments. When analyzed regionally, NODs provide important information about which homeowners have home loans they cannot afford. California was subdivided into five regions: Southern California, the Bay Area, the Central Coast, the Central Valley and Northern California. All regions encountered double digit increases in Q1 defaults. Southern California (+ 52%), the Bay Area (+26%) and the Central Coast (+39%) were the hardest hit by the foreclosure crisis.
"California NODs are at the "highest levels we have seen in over 15 years". Unfortunately, we expect the housing market to continue to deteriorate, as adjustable rate mortgages reset and home prices decline," said Tim Chin, CEO of RealtyStore. "A year ago, roughly 70% of homeowners in default were able to bring their payments current by refinancing or selling their homes. Due to a slow housing market and tighter mortgage lending standards, this is no longer the case."
Southern California
Southern California reported a total of 66,883 NODs for Q1 2008 and saw significant spikes in default activity. Los Angeles County alone reported 21,640 Q1 NODs, which represented a 50% upsurge over Q4 of last year. Orange County led the region with a 64% jump, while the Inland Empire, comprised of Riverside and San Bernardino counties, increased 52%.
Bay Area
The Bay Area started off the year with 16,201 Q1 defaults, an increase of 26% over Q4 of last year. San Mateo, Santa Clara and Marin Counties showed the highest percent increases at 44%, 43% and 39% respectively. Homeowners in Santa Clara County, also known as Silicon Valley, are feeling the pinch as home prices decline, making it more difficult to refinance. Additionally, the growing glut of inventory found in the Bay Area is compounding the problem, as distressed homeowners can no longer quickly unload their property to avoid foreclosure.
Central Coast
The Central Coast also experienced a tremendous up-tick in defaults, surging 39% from Q4. The Central Coast saw 2,349 defaults during Q4, while Q1 jumped to 3,261 defaults. Santa Barbara County was hardest hit, with a 48% increase from the prior quarter.
Central Valley
The Central Valley region reported a total of 28,986 NODs, an increase of 22% from Q4 2007. While the majority of Central Valley counties experienced only a slight rise in defaults, four out of twenty counties had notable increases. Glenn and Tehama counties experienced spikes of 138% and 100%, while Butte and Madera had increases of 55% and 42% respectively.
Northern California
While the total volume of defaults reported throughout Northern California was relatively low compared to other regions, the percent increases for three out of fifteen counties were noteworthy. Trinity, Siskiyou, and Del Norte Counties experienced triple digit growth in defaults at 227%, 126% and 122% respectively.
About RealtyStore: Founded in 2005, RealtyStore is the fastest growing, most trusted provider of foreclosure listings and information in the nation with over 1 million pre-foreclosure, foreclosure auction, bank-owned, and tax sale property listings. Collected from hundreds of public and private sources, RealtyStore's proprietary database includes extensive property characteristics (including pictures and maps), default and tax information, comparable home values, and neighborhood demographics information. For more information, visit http://www.RealtyStore.com
###