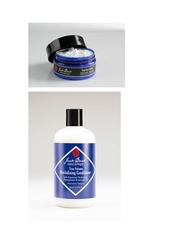 New York, NY (PRWEB) April 29, 2008
Jack Black, superior grooming products for men, is proud to be honored with two awards for "Best Shave Cream" and "Best Hair Conditioner" in the prestigious Men's Health Grooming Awards for 2008.
As an internationally renowned publication, known as the go-to authority for men's grooming and fitness, the annual Men's Health Grooming Awards recognize the top, most effective products on the market. Each year the magazine's grooming experts pick the best-of-the-best products - with Jack Black consistently making this esteemed list for the past four years!
"We are extremely honored that Men's Health has once again recognized Jack Black products as winners in their annual Grooming Awards. As universally respected-authorities in the field of grooming, the Men's Health editors are renowned for their knowledge, insight and recommendations. At Jack Black, every product we market is built from the ground-up--handcrafted to ensure the product quality is excellent and the performance is unsurpassed. It's a great accomplishment to be honored again this year." said Curran Dandurand, co-founder of Jack Black.
About the Products Men's Health Said:

Winner Best Shave Cream: Supreme Cream Triple Cushion Shave Lather
Razor blades run amok when paired with flimsy shave creams. This one shields your skin with Macadamia nut oil, glycerin, sea kelp and soybean.
Winner Best Conditioner: True Volume Revitalizing Conditioner
The bottle's back reads like a Hogwarts back-to-school supplies list: Organic sunflower-seed extract and vitamins A & E stiff-arm pollutants; sea kelp and avocado oil soften hair by filling in its jagged, microscopic tears; and white lupine strengthens the roots.
About Jack Black
Designed from the ground up, Jack Black was created to appeal to the guy's guy. Keeping it simple with superior products specially formulated for a man's needs. Nothing complicated, nothing cosmetic, just real solutions that provide immediate visible results. From a superior shave to complete body maintenance, Jack Black appeals to the growing group of men who want products that will not only improve the quality and condition of their skin, but their overall appearance as well. Inspired by traditional icons like upscale liquor and cigar labels, Jack Black features rich, distinctive-looking packaging that's always portable and user-friendly.
Jack Black is available at Neiman Marcus, Nordstrom, Bloomingdale's, Sephora, select Saks Fifth Avenue locations and online at http://www.getjackblack.com.
For more information please contact Danielle Rosen at Behrman Communications
(212) 986.7000
###