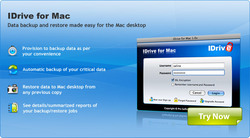 This is a major feat for us and for Mac users. There are few choices for online backup in the Mac world, and we are excited to offer one. We differentiate from others in this space in performance and ease of use. Our internal tests have shown that IDrive for Mac client outperforms other online backup offerings on Mac by a factor of at least 30%, for both backups and restores
Woodland Hills, CA (PRWEB) April 29, 2008
Leading online backup service IDrive (http://www.idrive.com) recently announced a Mac version of its flagship online backup offering called IDrive for Mac (http://www.idrive.com/idrive-for-mac.htm).
"This is a major feat for us and for Mac users. There are few choices for online backup in the Mac world, and we are excited to offer one. We differentiate from others in this space in performance and ease of use. Our internal tests have shown that IDrive for Mac client outperforms other online backup offerings on Mac by a factor of at least 30%, for both backups and restores," said Raghu Kulkarni, President and CEO of Pro Softnet Corp. "The application allows for easy selection of folders for backup by creating a 'backup set' which can be backed up interactively or can be scheduled for regular daily backups. It also sports advanced reporting and logging features.",
said Raghu Kulkarni.
Raghu Kulkarni continued, "In addition, IDrive for Mac is the only application that performs block level incremental transfers for both backups as well as restores. Competing applications on Mac platform do only incremental transfers for backups. This innovation allows greater efficiency in transfers both ways, for backups as well as restores. This performance edge is even more pronounced when the user is restoring multiple GBs of data."
Currently there are few options available for online backup on the Mac platform. iDisk (part of the .Mac service) based backup has been a popular option. Mozy launched a Mac OS X service last year. IDrive claims to outperform both the above mentioned options by a significant factor.
"Online Backup's main challenge has been to achieve performance levels that are at acceptable levels vs the traditional onsite backups while maintaining high security and reliability standards. From this perspective, IDrive has tried to do better than anyone else in this space," said Raghu Kulkarni.
About IDrive:
IDrive(http://www.idrive.com), a service of Pro Softnet Corp. is one of the leading services in the field of online backup and is possibly world's most popular online backup service (courtesy: alexa). PCWorld just named it as one of the best 101 freebee products for 2008. Technology behind IDrive has been in receipt of many accolades among which the latest was the best of the bunch as rated by PCWorld magazine for 2006 and has in the past been the PCMagazine editor's choice pick and the PCPro award winner.
###