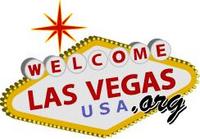 Las Vegas, NV (PRWEB) May 27, 2008
LasVegasUSA.org is celebrating its first anniversary as the leading authority on things to do in Las Vegas. Since its launch one year ago, visitors and residents have turned to LasVegasUSA.org as the tourist guide of choice for the 'Entertainment Capital of the World'. The LasVegasUSA.org blog remains the best place to find the latest and greatest information on Las Vegas attractions, Las Vegas tickets, or anything related to Las Vegas!
Those in the know about all things Las Vegas pen the blog entries. The frequent updates guarantee fresh content about the hottest Las Vegas attractions, tips on how to score the elusive tickets to those venues, and the ability to book reservations directly from the LasVegasUSA.org website. The blog is sectioned into categories for quick and easy on-point information.
Updated daily the categories about things to do in Las Vegas include:

Las Vegas Attractions
Las Vegas Casinos
Las Vegas Hotels
Las Vegas Information
Las Vegas Nightclubs
Las Vegas Restaurants
Las Vegas Shows
Las Vegas Sightseeing
Las Vegas Tickets
Las Vegas Tours
Las Vegas Videos
Las Vegas Weddings
And Much More!
No Las Vegas tourist guide is complete without helpful money-saving tips and LasVegasUSA.org is no exception. The Entertainment Capital of the World is an expensive jewel so plenty of information is available for deep discount programs to stretch your dollar.
Las Vegas is an over-the-top experience in excess that everyone should experience at least once in a lifetime. It follows then that the sheer overabundance of Las Vegas attractions is overwhelming. The perceptive traveler will plan and book a Vegas experience in advance. Since its inception, LasVegasUSA.org has been the hot spot for information and planning of a wedding, family vacation, or any other special event for all things Vegas.
Nick Stamoulis, the Editor for LasVegasUSA.org sums it up rather well, "Planning a visit to Las Vegas is as much fun as the actual venture! We are thrilled that the insight we share through LasVegasUSA.org has been the starting point for thousands of adventurous travelers and we thank each visitor to our website for considering our domain as one of the top Las Vegas tourist guides. If you have been thinking about a trip to Las Vegas for the first or hundredth time, bookmark LasVegasUSA.org because we will always keep you current on THE things to do in Las Vegas for many years to come!"
For more information, please visit: http://lasvegasusa.org or call 781-350-4364.
Media Contact:
Nick Stamoulis
781-350-4364
lasvegasusa @ brickmarketing.com
###