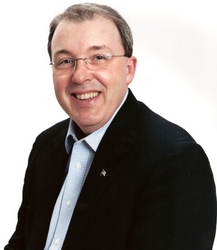 Small and mid-sized healthcare companies are facing increased costs of competition, as new interoperability and privacy standards take hold. Also, new technologies such as smart phones, radio frequency identification and genetic testing must be addressed or incorporated into product offerings. There is general consensus in the healthcare industry that the IT sector is due for major consolidation
Great River, NY (PRWEB) May 1, 2008
The current economic slowdown will lead to a record number of mergers and acquisitions in the healthcare information technology sector, according to James Brennan, FACHE, managing director of VirtualCDO.
"The weak U.S. economy, tight credit market and reduced venture capital funding are prompting many healthcare IT companies to put themselves up for sale or merger," said Brennan. His company, VirtualCDO CDO assists healthcare companies with strategic corporate growth and liquidity.
"Small and mid-sized healthcare companies are facing increased costs of competition, as new interoperability and privacy standards take hold. Also, new technologies such as smart phones, radio frequency identification and genetic testing must be addressed or incorporated into product offerings. There is general consensus in the healthcare industry that the IT sector is due for major consolidation," said Brennan.
VirtualCDO has published a six-page report on the healthcare M&A outlook for 2008, available free at VirtualCDO Articles: Outlook Report. The report reviews the forecast for various healthcare sectors including HIT vendors, hospitals, pharmaceuticals, retail clinics, managed care and others.
The VirtualCDO, an advisory firm based in Great River, NY, specializes in engineering corporate growth, governance and M&A for healthcare companies. Most recently, Virtual CDO was the lead advisor to VasTech (Annapolis, MD), in its acquisition by Lawson software.
The firm also guides also guides hospital executives through strategic planning, technology acquisition and vendor contract negotiations.
The firm offers a free, 30-minute consultation on M&A strategy for qualifying healthcare IT companies. For more information, contact dsterling @ virtualcdo.com to arrange your free consultation.
Contacts:
James R. Brennan, FACHE
VirtualCDO
Brennan @ VirtualCDO.com
O: 631-446.4400 x501
Cell: 631-245-0980
James Harris
Westside Public Relations
jharris @ westsidepr.com
Cell: 310-780-7107
O: 310-398-5565
###