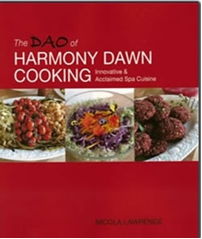 one of Canada's greenest buildings open to guests
Rice Lake (PRWEB) May 9, 2008
The Dao of Harmony Dawn Cooking is a gem of a life-style cookbook, which has been described as cutting-edge, "innovative Spa Cuisine at its finest" - delicious, clean, healthy.... and high on the satisfaction rating!!
Author Nicola Lawrence, is the Chef and Co-founder of "Harmony Dawn, an ecological off-grid retreat" in southern Ontario, which has been drawing rave reviews not only for its unique green vision and design, but its "superb, balanced vegetarian cuisine". Nicola combines 20 years of experience in the Food Service industry with Yin-Yang principles of balance and an intuitive flair, to produce an extravaganza of taste, texture and colour. She is a passionate advocate of fresh, local and organic food while celebrating the genius of the planet's culinary traditions.
"For guests the most striking feature of the Harmony Dawn experience is the food" Their overwhelming demand for recipes, cooking tips and food-health information pushed Nicola to create the inspiring, "The Dao of Harmony Dawn Cooking". One guest reported, "I ate everything set before me with an enormous appetite for 3 days and then lost 3 pounds the next week. My body was purring - no stomach twinges, no acid and I felt fully satisfied after every meal".
Nicola has demonstrated her recipes on TV, The Daytime Show, and her cooking workshops at Harmony Dawn have been featured in the Toronto Star. Her recipes are user-friendly and easily adaptable for those with special food needs.
Harmony Dawn Retreat is located on Rice Lake, just 90 minutes northeast of Toronto, and is regarded as "one of Canada's greenest buildings open to guests". Its design, which incorporates both "sustainable energy technology" as well as Feng Shui, was built to facilitate healing and transformative work and has proved wildly popular with yoga, meditation, drama and psychotherapy groups. Its guest also include groups of friends, family and forward-looking corporate groups. The other Co-founder of Harmony Dawn is Andy James, renowned author, spiritual teacher, martial artist and healer. He is the Founder and Chief Instructor of the Tai Chi & Meditation Centre in Toronto.
Nicola will be a guest of Radio host, Melissa West on May 21, 2008, at 11:00 am; to hear Nicola please visit the Contact Talk Radio website on that date, click on the text link Listen, the topic will be Vegetarian Cooking Harmony Dawn Style.
###