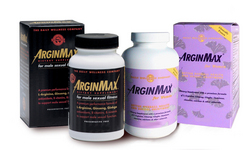 It's really for anyone who experiences a lackluster sexual drive
Honolulu, HI (PRWEB) May 1, 2008
An important clinical study on the role of nutritional supplementation in female sexual health published in the peer-reviewed, Journal of Sex & Marital Therapy (Volume 32, Issue 369, 2006) has just been accepted for presentation at the American Association of Sexuality Educators, Counselors and Therapists (AASECT) 40th Annual Conference June 25-29, 2008 in New Orleans. The double-blind placebo-controlled study found improvement in women's sexual desire and overall satisfaction in women of differing menopausal status following nutritional supplementation with ArginMax®.
The results of this study corroborate the impressive results of an earlier study: A Double-Blind, Placebo Controlled Study of ArginMax, A Nutritional Supplement for Enhancement of Female Sexual Dysfunction published in Journal of Sex and Marital Therapy (Volume 27, Issue 5, 2001). The study will be presented by co-author Beverly Whipple, PhD, RN, Professor Emerita at Rutgers University, Past-President of AASECT, Vice-President of the World Association for Sexology, co-author of the national best-seller, The G-Spot And Other Recent Discoveries about Human Sexuality.
The first study of its kind for a nutritional product in the sexual health category, it included 108 women, ages 22-73, enrolled as participants lacking in sexual desire. Following a double-blind placebo-controlled design, neither the women volunteers nor the investigators knew who was getting the nutritional supplement Of the 108 women, 55 received the nutritional supplement and 53 received placebo. The Female Sexual Function Index (FSFI) was used to evaluate the level of sexual health before starting and after completing the 4 week long study.
At the end of four weeks, 72 percent of the pre-menopausal women increased the levels of sexual desire (statistically significant at p=0.03) and 68 percent increased in satisfaction with overall sex life. Among the peri-menopausal women, 79 percent increased in satisfaction with sexual relationship (statistically significant at p=0.03) and 64 percent improved in vaginal dryness and degree of clitoral sensation. Eighty six percent of the women in the peri-menopausal group reported improvement in frequency of intercourse (statistically significant at p less than 0.01). Fifty six percent of the women in the post-menopausal group increased in sexual desire, compared to the eight percent in the placebo group (statistically significant at p less than 0.01).
ArginMax® for Women, a scientifically validated nutritional supplement for optimization of female sexual health, that combines L-arginine, Panax ginseng, Ginkgo biloba, damiana leaf, vitamins A, C, E, B6, B12, Biotin, folate, niacin, pantothenic acid, riboflavin, thiamin, and the minerals calcium, iron and zinc.
"It's really for anyone who experiences a lackluster sexual drive," says Denny Kwock, general manager of the Daily Wellness Co., the Honolulu-based outfit behind ArginMax. The mix of amino acids and herbs does more than simply rouse blood flow, he says. "We believe that it goes straight to the central nervous system to enhance libido."
L-arginine has been well established as a nitric oxide precursor and ginseng may upregulate this conversion process. Gingko facilitates microvascular circulation involved in sual arousal mechanisms. Damiana has been shown to affect hormone receptors and reduce anxiety. The mechanism for ArginMax® is believed to involve a central feedback loop coupling enhancement of peripheral circulation and the stimulation of libido by the brain.
"I've been conducting research in the area of women's health, sexuality and pleasure for over forty years," comments Whipple. "This is an increasingly important issue as we now have a higher population of women passed the average age of menopause than ever before. This is the only supplement available of its kind that has clinically proven results."
"With no negative side effects reported, the supplement is clearly an option for some women," says Mary Lake Polan , MD, PhD, MPH, Chair and Professor, Department of Gynecology and Obstetrics, Stanford University School of Medicine and co-author of the study. "Women who suffer from sexual dysfunction should first talk to their doctor before taking a nutritional supplement," she advises. "There may be a physical reason a woman is experiencing pelvic pain or vaginal dryness, for example, and both of these problems can be treated medically. Or there may be a relationship issue, in which case counseling rather than a nutritional supplement, would be prescribed."
"We still don't have a magic bullet," Polan notes, "But ArginMax does give women more choices."
ArginMax® is a patent-pending formula that is available nationwide in leading food, drug, mass merchandise retailers, GNC and health food stores, or online at http://www.arginmax.com.
###