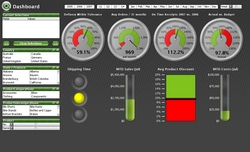 With this solution, companies will be able to analyze their delivery performance down to the customer level, monitor productivity and their related costs, review cost to budget and make sound business decisions based on 'on the fly' spend analytics
Alpharetta, GA (PRWEB) May 1, 2008
Database Mining Lab has introduced a supply chain business intelligence solution to help companies analyze their supplier performance through scorecards, dashboards and consolidated data reporting.
The implementation of this business analysis tool is geared to the director of the company's supply chain or logistics and their team to be able to easily analyze every aspect of the supply chain. The tool will specify and track goals against budget and enable management to use interactive dashboards to drive operational decisions in real time.
"With this solution, companies will be able to analyze their delivery performance down to the customer level, monitor productivity and their related costs, review cost to budget and make sound business decisions based on 'on the fly' spend analytics" says Ambar Kumar, Director of Consulting Services at Database Mining Lab. Mr. Kumar added "the drill down capabilities to the individual order allows exceptions to be identified quickly and efficiently."
"If all the elements of the supply chain solution are in place, you can be assured that you are providing your customer a quality product at the most competitive price" said Mr. Kumar. Database Mining Lab's solution integrates seamlessly with existing corporate financial, procurement and other operational systems. Corporate data is consolidated from all transactional systems throughout the organization into an integrated database for efficient data mining.
Database Mining Lab uses cutting-edge technology to develop solutions that enable companies to have accurate, integrated, real-time information to make informed decisions. Business data is converted into key performance indicators (KPI) and presented in the form of an interactive scorecard on a dashboard with drill down capabilities. Implementation time is weeks instead of months and the ROI is quick. Minimal staff training is needed and the application is very easy to navigate.
Companies utilizing this power of analytics can gain a significant edge over competitors by analyzing data to gain insight about customers, vendors, resources and their market. For more information and to sign up for a free web demonstration of this powerful analytic tool, visit Database Mining Lab on the web.
About Database Mining Lab:
Database Mining Lab was founded by a team of enterprising and innovative individuals who have a vision of providing powerful Business Intelligence solutions to companies of all sizes. We develop "Intelligent Dashboards" and data mining applications utilizing extensive experience in large Fortune 500 enterprises. Knowledge of different industries and functions enables us to help companies gain a significant edge over competitors. We offer a range of flexible business intelligence solutions including performance management, scorecards and dashboards. We bring decades of successful business intelligence, CRM analytics and data warehouse implementation expertise to bear on your project, ensuring maximum business benefits. The company is located in Alpharetta, GA.
For More Information Contact:
Andrea McKalvey, Sr. VP Marketing
678-336-1161
###