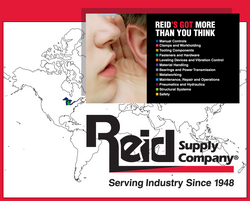 And in the spirit of our founder Mr. Liberty Reid, we will continue to focus on practicing great customer service.
Muskegon, MI (PRWEB) May 6, 2008
Reid Supply Company, a global distributor of industrial parts, components and supplies, credits good old fashioned customer service as they continue to expand within a challenging economic environment in Michigan.
"It's based in our Rallying Cry", says John Carrier, President of Reid Supply, "We have a 60 year history of being fast, thorough and very, very customer friendly. And in today's world of outsourced customer service, we take great pride in our pleasant, in-house customer service team. These are more than words to our employees; they are an organic way of doing business."
Greg Palmer, Director of Marketing, repeats the company's rallying cry, "'Others may be bigger, but nobody serves the Customer better'. Some of the ways we do this is with our Rapid Response Team for special order non-stocked products. Another is with customized standard products through Total Quality Machining our manufacturing and modification tooling company. We also offer 24/7 ordering online with same day shipping and no minimum orders."
Careful planned growth is another key factor to the growing success of the company. Partnering with hundreds of top brand name suppliers like DE-STA-CO, Vlier, Dimco Gray, and Avibank, Reid Supply customers have access to thousands of high quality products at affordable prices.
In 2008, due to the size of the product expansion in the Bearings and Power Transmission category, Reid added another warehouse in Indianapolis, Indiana.
2008 also marks Reid Supply's 60th anniversary with a new ad campaign emphasizing their diverse offering tagged "Reid's Got More Than You Think". The campaign illustrates a series of employees eavesdropping and whispering secrets to each other about Reid's products.
Palmer says that although the company continues to do business much as it did in 1948 one crucial thing has changed, "In 1948 our first catalog was just 16 pages long and mailed to 5,000 machine shops in the Midwest. Today, we offer online and print catalogs featuring over 52,000 products." Palmer is particularly enthused about their new color coded catalog and flyers.
Reid's product offering is now organized into 12 color-coded categories including manual controls; clamps and workholding; tooling components; fasteners and hardware; leveling devices and vibration control; material handling; bearings and power transmission; metalworking; maintenance, repair and operations (MRO); pneumatics and hydraulics; structural systems; and safety supplies.
"Striving to improve our customer's experience, we've created a color coding system that reaches across the spectrum of our web and print publications," says Palmer. "The 12 color codes are a consistent and easy way to navigate our large selection, and this new indexing system is very popular with our customers for obvious reasons."
In addition to their new catalog and other print materials, Reid Supply re-launched their e-commerce web site, ReidSupply.com, with state-of-the-art search and navigation capabilities. The company is the only industrial distribution company that offers over 41,000 free CAD downloads on their web site. The web site also provides monthly sales fliers, free downloadable product information packets called Resource Guides, Reid SupplyLine monthly enewsletters, and a new online catalog, which is a digital representation of their printed catalog as an easy online ordering alternative.
"Our first 60 years of Reid Supply has been phenomenal," says Carrier. "And in the spirit of our founder Mr. Liberty Reid, we will continue to focus on practicing great customer service."
###