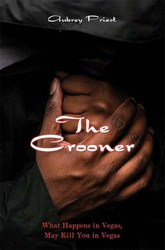 What Happens in Vegas stays in Vegas.
Fresno, CA (PRWEB) May 1, 2008
Ten friends go on a trip to Las Vegas looking for the excitement, women and the pure rush of living the high life in Sin City. One of the ten men has a dark secret that will cast the men into the depths of Hell as they find themselves trapped in the underbelly of the city that never sleeps. Their friendship is replaced by a profound brotherhood as they fight to stay alive while playing a deadly and unrelenting game of cat and mouse with killers around every corner and people conspiring against them at every turn. Trained assassins want the ten men dead while the leader of a terrorist sleeper cell seeks vengeance against the assassins. The FBI and the Las Vegas PD are driven to stop the bad guys before they kill again. Meanwhile, lurking in the shadows is the biggest threat to them all.........The Crooner.
The Crooner-What Happens in Las Vegas May Kill You In Vegas written by Aubrey Priest is a novel that resonates with anyone who has been to Las Vegas or has every wanted to go to Las Vegas and has thought, what if things go horribly wrong? What if the dream vacation you've envisioned became a disaster and you found yourself in the midst of the true terror behind Sin City.
40 million people go to Las Vegas every year and all of those people have a story to tell. Some stories are wonderful and people share their story of immediate wealth while others tell a different tale of how they met Mr. or Mrs. Right Now or how they lost all of their money while secretly wondering how they were going to pay their bills once they return home. But then there are some stories in Las Vegas that are never to be shared with another living soul. Hence the phrase, "What Happens in Vegas stays in Vegas." Those are the stories that in some cases stirs the souls of men and makes women cringe. But those are also the stories that must be told. This novel takes you into that world. The dark side of Las Vegas, beyond the lights and glamour, beyond the beauty and riches. This is the real Las Vegas that is rarely seen and even more rarely escaped.
The Crooner-What Happens In Vegas May Kill You In Vegas is now available for purchase at authorhouse.com ($16.95 retail price), barnesnoble.com, amazon.com or 22,000 major bookstore outlets online.
About the Author: Aubrey Priest has always had a passion for writing and after years of writing comical and off beat short stories finally made his dream a reality after completing his first work, a screenplay titled 'Ghosts in the Hall' (2006). He then stepped out of his proverbial box and completed his first novel, 'The Crooner-What Happens in Vegas May Kill You in Vegas.' Aubrey is a father of four wonderful children and married for over ten years. Aubrey Priest has a Bachelors in Psychology, Masters in Forensic Science and is a candidate to obtain his Ph.D in Education.
Title: The Crooner
Subtitle: What Happens in Vegas May Kill You in Vegas
Author: Aubrey Priest
Publisher: Authorhouse
ISBN: 978-1-4343-6550-7
Category: Suspense/Thriller/Drama/Adventure
Length: 304 pages
Retail price: authorhouse.com ($16.95) , amazon.com & barnesnoble.com
Binding: 6 x 9 paperback
SOURCE: Authorhouse/Aubrey Priest
###