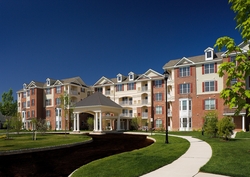 In addition, we'll have representatives from Wells Fargo, one of the country's largest and most respected lenders, available both before and during the auction to pre-qualify buyers and answer any financing questions they may have.
Lawrence, NJ (PRWEB) May 1, 2008
A limited number of one-and two-bedroom condominium homes located at the Carriage Park at Lawrence active adult community here will be sold in a residential real estate auction on Saturday, May 31st in the community's clubhouse.
The residences in this Mercer County community will be offered at minimum bids starting as low as $102,500 -- at least 50% less than the original asking prices, according to Coldwell Banker's Auction Division, which is conducting the one-day auction for The Kalian Companies, developer of Carriage Park at Lawrence.
What's more, contracts will be accepted with home sale contingencies -- an unusual occurrence in auctions -- and buyers will not have to pay commissions or bidders premiums.
Potential bidders can register for the auction and become pre-qualified by calling 1-800-UcanBid, or by visiting http://www.1800ucanbid.com.
"This auction will offer a select group of buyers extraordinary opportunities to purchase a new condominium residence in a fully-amenitized community at well-below market prices," notes Joseph Zidek, Auction Manager for Coldwell Banker Residential Brokerage.
"The developer is extremely motivated to sell these homes, but is also sensitive to the buyer demographic and has done everything possible to ensure that the auction will be conducted at a friendly, moderate pace that will in no way be intimidating to potential bidders. No-one has to worry about trying to keep up with a fast-talking auctioneer inaudibly shouting out leading bids in a frenzied atmosphere; this will be a relaxed atmosphere where bidders will have plenty of time to carefully consider their decisions."
To help further ease potential bidders' concerns, those who pre-register for the auction will be afforded an opportunity to preview the homes, receive Bidders Information Packets containing due diligence, terms of sale and all other required paperwork; and have their attorneys review the information.
"By previewing the homes beforehand and knowing exactly what the minimum bids will be, buyers can be totally prepared to bid on the home of their choice up to a price that they're comfortable with," notes Mr. Zidek. "In addition, we'll have representatives from Wells Fargo, one of the country's largest and most respected lenders, available both before and during the auction to pre-qualify buyers and answer any financing questions they may have."
Each of the condominium homes -- which range in size from 791 to 1,267 square-feet of living space -- is available for immediate occupancy, allowing purchasers to reside in their new home within 30 days. Winning bidders must sign contracts and place a downpayment of at least 10% of the minimum bid at the auction event.
"Because these homes are completed, Kalian has opted to sell them in an auction format rather than a traditional sales program which would likely take an extended period of time," notes Zidek. "That decision will result in tremendous value for buyers."
Carriage Park at Lawrence, with its desirable location, maintenance-free living and resort-like amenities, has appealed to active adults looking for the lifestyle they desire in a location that's close to family and friends.
"We've attracted a number of retirees who relocated to Florida or other warmer climate locales but wanted to have a place to come back to, near their children and grandchildren," notes Alton Evans, Kalian's Vice President of Sales and Marketing. "In a number of cases, it's been the children who have selected the community for their parents, particularly families living in Princeton and the surrounding area."
Conveniently located just minutes from downtown Princeton, Carriage Park at Lawrence is surrounded by a network of transportation options, including Interstates 95 and 295 and Route 1. The Princeton Junction and Hamilton Train Stations are also both just minutes away.
The community boasts an impressive array of recreational amenities which help stimulate social interaction between residents and neighbors. Highlighting the state-of-the-art facilities is a professionally-decorated, 7,100-plus square-foot clubhouse which features a fitness center, great room, formal lobby, library and kitchen facilities. A billiard room, card room and craft room will be added in the future.
There's also the sparkling outdoor pool and terrace and a walking path around the community. Two bocce ball courts, horseshoe courts, shuffleboard courts and a "free play" lawn area with a central gazebo and two brick courtyards will be finished this year.
To register for the May 31st auction, call 1-800-UcanBid or by visit http://www.1800ucanbid.com.
Contact:
Robert Kelly
CAHN Communications
rkelly @ cahncomm.com
201-876-3100
# # #