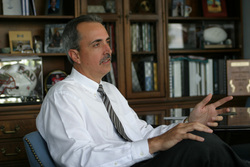 We understand that when you trust us with your important teleservice campaigns, you are also trusting us with the success of your business. We know you will not be disappointed
Pompano Beach, FL (PRWEB) May 1, 2008
Ron Drenning and the Taylor Corporation, one of the largest privately held companies in the U.S., announce the expansion of their call center services outsourcing division operating under the fortune2000 Call Center Services banner. fortune2000 Call Center Services (http://www.fortune2000.cc) headquartered in Pompano Beach, Fla., is managed and directed by well-known industry experts who have handled millions of inbound and outbound calls in English and Spanish, serving a prestigious roster of brand-name clients.
The company offers a skilled sales team of more than 100 licensed insurance agents to accommodate the needs of insurance and health care clients. Their experience in the teleservices business is second to none. Moreover, the fortune2000 Call Center technology has been developed and improved internally over a period of 20 years to be best in class in terms of its ability to provide top performance and high quality services, and meet the demanding needs of its clients.
fortune2000 operates state-of-the-art call centers within the U.S. and the Dominican Republic, serving many segments of the direct marketing community with particular focus on Health Care, Insurance, Financial Services, Sales Force Marketing, Retention and Customer Care campaigns in English and Spanish. fortune2000 has a built-in base of clients to serve, comprised of many of the nation's top companies who already do business with Taylor Corporation (http://www.taylorcorp.com).
As one of the 100 plus subsidiaries that make up Taylor Corporation, fortune2000 offers easy access to more than 1,000 seats in the U.S. or the Dominican, and a wealth of integrated marketing opportunities across a broad spectrum of services including CONDUCTOR, the powerful sales force revenue-building engine.
At Taylor Corporation, Ron Drenning has been on the leadership team for the Marketing Division of Companies for more than 10 years and has served as president of First Marketing Corporation since 1998.
Ron comments, "In this particular cycle of the economy, corporate decision-makers need to analyze all options very carefully. Right now our focus is on cutting costs for our clients, helping them retain and add new customers, and improve their bottom line through efficiency and
innovation. We strive to save money for our clients, and do a better job than anyone else."
"We understand that when you trust us with your important teleservice campaigns, you are also trusting us with the success of your business. We know you will not be disappointed," Ron continues.
For information about fortune2000 Call Center Services, contact David Burton, National Director, Business Development, at 1-866-608-4303.
###