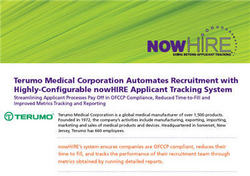 This is yet another successful ATS implementation, which we attribute to nowHIRE's recognized ability to configure perfect systems for our customer's needs
(PRWEB) May 1, 2008
Detroit, MI (PRWEB May 1, 2008 -— nowHIRE.com announced the successful applicant tracking system (ATS) implementation of nowHIRE's Government Contractor Edition for Terumo Medical Corporation, a global medical manufacturer of more than 1,500 products.
Since implementing nowHIRE's ATS, Terumo has fully automated the tracking of applicants and has experienced over $60,000 in annual savings in recruitment and onboarding costs. The nowHIRE ATS has created a streamlined and efficient process for Terumo, enabling the company to ensure OFCCP compliance, reduce time-to-fill and measure the recruiting team's performance by generating custom reports.
Prior to the nowHIRE ATS implementation, Terumo's human resource staff was manually tracking applications for open positions. The manual process was labor-intensive and compromised data integrity, and the staff was spending approximately 16 hours per week tracking applicants. Terumo made the decision to invest in an ATS to bring value to the company by filling positions quickly and effectively.
In looking for an ATS, Terumo found that most vendors required them to purchase a complete system, including many features and components that Terumo didn't need.
"nowHIRE allowed us to configure a system to perfectly match our needs," said Marsha Greene-Jones, Terumo vice president of human resources. "This enabled us to purchase the most cost-effective product for our needs, not to mention the most user- friendly system."
Due to the success of this implementation, Terumo plans to expand the nowHIRE ATS functionality. Future expansion includes fully automating the recruitment process through online requisition approval, automatic job posting to required sites for Affirmative Action Plan compliance and a link from the nowHIRE ATS to Terumo's payroll system for automatic data transfer from the ATS system to payroll.
"This is yet another successful ATS implementation, which we attribute to nowHIRE's recognized ability to configure perfect systems for our customer's needs," said Joseph Impastato, nowHIRE president. "Not only that, but we go beyond treating our customers like just another sale — we look forward to building partnerships with them."
For more information on Terumo's implementation of the nowHIRE ATS, download the case study at http://www.nowhire.com/register_casestudy.htm.
About nowHIRE
Since 1998, nowHIRE has been a premier provider of applicant tracking systems for companies of every size within diverse vertical markets. Their industry-defining solutions feature fully integrated, Web-based recruiting and applicant tracking software modules. Companies are able to configure the software to their specific recruiting needs—whether it be for hourly, salaried, internal or contingent employees, or any combination thereof. nowHIRE's solutions give clients what they call "Zoom"—the competitive edge.
Media Contact:
Joseph N Impastato II
586-778-8491 (15)
joseph.Impastato(at)nowHIRE.com
Gail DeLano
Fisher Vista, LLC / HRmarketer.com
831-685-9700
gdelano(at)fishervista.com
Adriana Saldana
Fisher Vista, LLC / HRmarketer.com
831-685-9700
asaldana(at)hrmarketer.com
This press release was distributed through eMediawire by Human Resources Marketer (HR Marketer: http://www.HRmarketer.com) on behalf of the company
listed above.
###