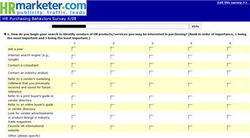 Trends in HR Marketing: HR Buyers' Behavior 2008
Capitola, CA (PRWEB) May 1, 2008
Who and what do HR buyers rely on to make purchasing decisions? How does today's uncertain economy affect their purchasing decisions? How do blogs, podcasts and other Web 2.0 tools influence their vendor selections? How important is a vendor's online visibility? These questions and more will be answered in HRmarketer.com's upcoming research report, "Trends in HR Marketing: HR Buyers' Behavior 2008".
The newest installment of a continuing series, "HR Buyers' Behavior 2008" will analyze the perceptions and trends of the HR buyer through the marketing, sales and purchasing cycle; as well as the tools and influencers they use to progress through each stage.
HR professionals interested in participating in the survey may visit: http://www.hrmarketer.com/HRBuyerSurvey2008.
Key topics include the relative value of printed materials, online visibility, the word-of-mouth of trusted sources and informal networks, and professional peers' opinions. This analysis, combined with an understanding of how the Internet is changing the way HR professionals interact with vendors, provides HR suppliers with a better understanding of their target market and the best tools with which to reach them.
"For those HR vendors attempting to reach buyers and inform them about products and services that can benefit their bottom line, new approaches are needed as the Internet dramatically alters how HR professionals make purchasing decisions," explains Kevin Grossman, chief operating officer of HRmarketer.com. "This report will provide valuable insights into the needs and priorities of HR professionals, and help HR suppliers better allocate their marketing and PR dollars."
Last year's HR buyer behavior research report – along with all of HRmarketer's white papers and research – is available to download for free by visiting http://www.hrmarketer.com/home/whitepaper_main2.htm. This year's HR buyer report will be available late in the second quarter.
About Fisher Vista, LLC
Fisher Vista, LLC is a marketing and information services firm focusing on the human capital and senior care industries. The company's flagship product, HRmarketer.com, is the No. 1 online marketing and PR service in the human resources industry, helping HR suppliers generate publicity, website traffic, sales leads and improved SEO. SeniorCareMarketer.com is scheduled for launch in mid 2008 and will achieve similar results for companies selling products and services relating to the aging of America.
This press release was distributed through eMediawire by Human Resources Marketer (HR Marketer: http://www.HRmarketer.com) on behalf of the company
listed above.
###