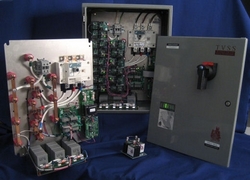 Richmond, VA (PRWEB) May 3, 2008
Thor Systems announced its 3rd Generation of Surge Protective Devices (SPDs) which reduce or eliminate harmful voltage transients, surges and electrical line noise, thus preventing damage to sensitive electrical equipment and logic controls. In business the one constant is change, which can be a most compelling opportunity when coupled with a constant need for improved power quality and a growing expectation for a better operating environment to provide a competitive edge in an expanding world economy. The launch of Thor Systems' 3rd Generation Products is a very positive response to a change initiated by a very negative series of events.
Prior to the latest UL 1449 3rd Edition, surge protection equipment was known as "Transient Voltage Surge Suppression" (TVSS). As the first manufacturer in the industry to have completed UL 1449 3rd Edition testing, Thor Systems offers world-class products, bringing a new level of performance featuring advanced surge protection technology. These totally new innovative products provide an outstanding value while improving business continuity and profit opportunities. This latest UL standard renders all surge protection products manufactured under previous listings obsolete on September 27, 2009.
Thor Systems executed a disciplined strategy during its 3rd Generation Product development to create a sustainable competitive advantage utilizing "fail-safe" hybrid surge protective technology, while maintaining the ability to deliver full rated surge capacity through multiple, parallel low impedance surge paths linking all suppression elements and their individual paths to divert the transient/surge energy away from the protected critical equipment.
New players in surge protection created the headwinds of change. Over the past eight years, manufacturers of electrical switchgear have been promoting the integration of their own brand of TVSS (pre-3rd Edition nomenclature) into their distribution equipment, seeking to seize market opportunities and expand their product scope. To expedite this market penetration, a number of small independent TVSS businesses were acquired. As is often the case after acquisition, the products were "Value Engineered," typically providing the customer with a less than optimum product due to cost reductions and manufacturing ease.
Claims were made to simplify specifications and improve performance by direct buss-mounting the TVSS. In reality, the simplified specifications eliminated competition providing the customer with a limited, often inferior lower-end, and usually higher embedded cost product. In addition, direct buss-mounted units require shutdown of the entire panel or switchboard with all of the associated loads in the event of TVSS failure or service needs.
A serious issue became apparent--catastrophic "End of Life" TVSS failure--which can result in the spraying of ionized gas, rupture of the TVSS enclosure, and the creation of an arc flash contaminating the customer's electrical distribution equipment and ultimate critical systems shutdown. When such a failure occurs, full recovery often requires that TVSS and associated distribution equipment be replaced. This replacement can take weeks, requiring site remediation which can be quite costly. Understandably, those who suffer these types of failures are not seeking publicity about the incident.
Catastrophic failures and "litigation avoidance" carried a strong focus of attention, prompting the request for additional safety testing to ensure controlled system failure. A properly designed product applied with system coordination would not have failed with these results. However, a successful lobbying effort resulted in additional testing as required by the UL 1449 2.5 Revision (effective February 2007) and UL 1449 3rd Edition (effective September 2009).
The fundamental question facing the surge protection industry is: How to address "End-of-Life" catastrophic failures--a fuse resizing/performance limiting exercise or new product development? After a thorough review of the new UL 1449 3rd Edition rigorous testing requirements, Thor Systems concluded a new product development was the only acceptable solution in the long-term interest of our customers and the company. After 15 months of new product development and UL testing we introduced our 3rd Generation of Surge Protective Devices (SPDs).
Identify and realize profit opportunities by scheduling a Thor Systems site evaluation. Call 804.355.1100 or visit our Web site (http://www.ThorSystems.us) for more information. Using a Site Shield 3G Risk Assessment developed to define the appropriate SPD for specific applications within the facility, we will verify the electrical service/distribution and data/communications systems and review historical maintenance/miscellaneous costs. Following the site evaluation, we will provide recommended solutions to improve your power quality and enhance your profitability, with a detailed equipment proposal and defined installation guide. Implementing the recommended site specific SPDs can yield a 30-70% reduction of maintenance and miscellaneous expense costs.
Improved Power Quality Cost and Profitability. The cost to install surge protection is normally less than 0.25% of the cost of construction with a typical return on investment (ROI) of one year and often less than six months. After initial payback period, saved expense costs become profit annuities year after year.
Results. Thor Systems' power quality solutions will help you achieve your company's objectives by detecting and eliminating power quality problems affecting your business and provide:

Reductions in Expenses:
Labor, overtime, and maintenance costs
Equipment downtime
Equipment repair and replacement
Production material losses caused by unnecessary reboots/restarts
Improvements in Profitability:
Business continuity/operating efficiency
Equipment/system availability and longevity
Customer relations by improving on-time deliveries
System and equipment connectivity
Thor Systems' commitment goes beyond the manufacture of the product. We are dedicated to ensuring a proper site evaluation while making certain the correct surge protection recommendation is made for the entire facility. Product offerings range from large facility service entrances to primary and secondary building distribution systems, including computer rooms and data processing centers as well as manufacturing, process control, small business systems and residential equipment.
Thor Systems is a manufacturer of Surge Protective Devices (SPDs) with offices and manufacturing facility in Richmond, VA.
###