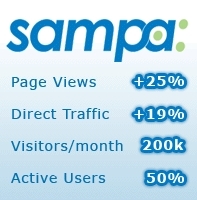 We really like our Sampa site and get compliments on it from our friends and family
Redmond, WA (PRWEB) May 8, 2008
Sampa Corporation, a leader in personal websites that enable families and friends to privately share life experiences, today announced that Q1 of 2008 was the best month in the company's history, with more than one half million page views. The number continues to climb as users flock to the service.
Sampa's Growth at a Glance

Pageviews jumped 25 percent
Direct Traffic jumped 19 percent
Unique visitors 200k
Rate of engagement up 50 percent
"We are pleased with the level of acceptance our site is achieving, as evidenced by the strong growth in users, page views and sites," said Paul Gross, CEO of Sampa. "We find that users are attracted to the security, the convenience and the speed and ease in which they can get their sites up and working."
"We really like our Sampa site and get compliments on it from our friends and family," says dedicated Sampa user Yvonne Blumenthal. "It's a safe and secure way to share family photos and news with our loved ones." Blumenthal's response is typical of many Sampa users.
Experiences such as these are fueling the strong growth in interest in the company. In Q1 of 2008, Sampa.com sites were visited more than one-half million times, with significant increases in page views, direct traffic and active users. "Happily, our growth only seems to be accelerating, too," summarizes Paul Gross, CEO.
About Sampa
Sampa makes it easy to create a personal, private place on the web to share life events with family and close friends. With a Sampa site, users can share stories, photos, videos and life milestones with simplicity -- with the assurance that only those people you invite will have access. Sampa features easy-to-use themes for major life events and milestones such as the "new baby" in the family, the "kids' achievements" and "family events" like reunions and vacations. The service can be accessed free of charge at http://www.sampa.com.
Based in Redmond, Washington, Sampa Corporation was founded in 2005 by Marcelo Calbucci, CTO, a former development manager at Microsoft. CEO, Paul Gross, formerly senior vice president of Mobility at Microsoft joined in 2006 to accelerate Sampa's growth. Sampa is a trademark of Sampa Corporation. All other trademarks and brads are the property of their respective owners.
# # #