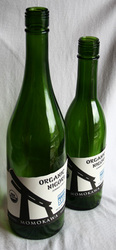 We've worked to address everything we can to create a sustainable saké
Forest Grove, OR (PRWEB) May 2, 2008
Momokawa Organic Nigori and Ginjo (Junmai) will flow off the bottling line at the end of May to take its place as the first saké to carry the USDA organic seal of approval. The parent company, SakéOne attained organic certification and did so in April only after meeting the rigorously defined requirements of the USDA and internationally acclaimed organic certifier Oregon Tilth.
"The certification means a guarantee to our customers that the Momokawa saké carrying the USDA seal are as clean and simple as nature would appreciate them being. That they are brewed from certified organic rice, yeast, koji, and that all processes and aids are certified having met the strict standards of the USDA and our certifying agency Oregon Tilth" noted Greg Lorenz, Sakémaster. "Being the first Kura (saké brewery) in the world to label with the USDA seal is a credit to our entire team and Oregon Tilth who helped us through the process."
SakéOne will bottle two different saké under the Momokawa brand; Organic Nigori and Organic Ginjo (Junmai). Both will come in 750 ML and 375 ML bottles that clearly communicate the difference between Momokawa and Momokawa Organic. The organic bottle strays from SakéOne's signature blue glass and embraces the more easily recycled green. The cap is short to minimize the use of raw materials and is itself recyclable. Labels are printed on "Tree Free" paper made from bamboo and grasses, and carry a different look and feel than the traditional Momokawa line while retaining the iconic Tori Gate image.
"We've worked to address everything we can to create a sustainable saké," noted Steve Boone, President and CEO of SakéOne. Our team is working on various ways to reduce our environmental impact and the first to come to life is our organic saké. USDA certified, brewed in the U.S. and packed with thoughtful intent. And, its truly wonderful saké. Early taste tests of both styles are very exciting," added Boone.
Oregon Tilth Certified Organic (OTCO) is an internationally recognized symbol of organic integrity.
SakéOne (http://www.sakeone.com) is the leading brewer and importer of premium saké in America with distribution throughout the U.S. and the Americas. SakéOne crafts saké under the Momokawa (traditional styles), Moonstone (fruit infused), G (cask strength), Peaceful River (for restaurants only) brands, and imports saké from Momokawa Brewing Japan under the Murai Family label.
###