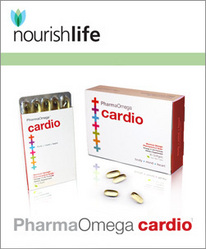 We are determined to let people know that a simple step like supplementing with an ultra-purified omega-3 can make a big difference on stroke prevention
Chicago, IL (Vocus) May 2, 2008
In honor of National Stroke Month, NourishLife announces a public awareness campaign highlighting the benefit of omega-3 fish oil for the prevention of strokes.
A small percentage of Americans are aware that stroke is the number 3 cause of death in the United States. Furthermore, they are unaware that omega-3 can help lower the risk of stroke by decreasing arrhythmia, lowering triglycerides, decreasing the formation of atherosclerotic plaque, and lowering blood pressure - all precursors to stroke. "Given that every 40 seconds someone in America has a stroke, we were astonished at how few people knew of omega-3's benefits," said Kara Bolton, Communications Manager at NourishLife. "Even among health-conscious consumers, like those who buy our PharmaOmega supplements."
Numerous studies have proven the efficacy of omega-3 fish oil to heart health and healthy circulation. According to the American Heart Association, recent research indicates, "that taking EPA+DHA ranging from 0.5 to 1.8 grams per day (either as fatty fish or supplements) significantly reduces all deaths from heart disease and all causes."
"We are determined to let people know that a simple step like supplementing with an ultra-purified omega-3 can make a big difference on stroke prevention," said Jason Way, VP of Customer Experience. "And that is why we are offering Free Samples of our PharmaOmega Cardio which has been specifically formulated for heart protection. We want everyone to have a chance to experience to benefits of omega-3." To receive a free sample of Cardio, go to pharmaomega.com.
About NourishLife:
NourishLife (http://www.NourishLifePPP.com) is contributing to a major improvement in health and wellness by addressing nutritional deficiencies. The firm expects to help significantly reduce healthcare costs. Founded by nutrition industry veterans, the firm employs expert scientists and nutritionists passionate about health.
The PharmaOmega division of NourishLife (http://www.PharmaOmega.com) is the web's premier source of Omega-3 information, research, and news. PharmaOmega creates specialty Omega-3 nutrition products of the highest concentration, quality, and purity.
NourishLife is a privately held company located in the Chicago area.
###