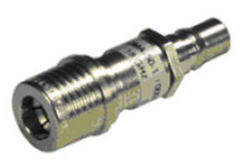 Essex Junction, VT (PRWEB) May 3, 2008
HUBER+SUHNER announces a new series of attenuators that employ the Quick Lock Formula (QLF) standard for QMA connectors. The QMA interface is based on the SMA interface dimensions but takes up to ten times less time to mate and demate. QMA connectors have smaller space requirements then SMA connectors allowing increased packing density because torque wrenches are not required. Both of these factors result in reduced cost of ownership. Currently three products are available in 2 watt (125 Peak) power rating with attenuation values of 1, 3, and 10dB. The series operates over a frequency range of DC-18GHz. Additional variants with other attenuation, power, and frequency values will be available later this year. These attenuators are ideal for use in telecommunication systems such as GSM, CDMA, WCDMA, and antenna sharing where attenuation is required. They are also ideal for lab applications where precision attenuation and fast mate and demate time is desired.
About QLF Alliance
The Quick Lock Formula Alliance is a group of companies who have agreed on a standard that guarantees connectors manufactured by different suppliers are intermateable and perform in compliance with the common standard. More info at http://www.qlf.info.
About HUBER+SUHNER
The HUBER+SUHNER Group is a leading global supplier of components and systems for electrical and optical connectivity in telecommunication, industrial, and transportation applications. HUBER+SUHNER draws on core competencies in the areas of high-frequency, fiber optics, and specialty wire and cable technologies. Working in close collaboration with its customers around the globe, HUBER+SUHNER strives for excellence in the development and manufacturing of high quality products.
Contact:
Nasir Mahmood
HUBER+SUHNER, Inc.
630-625-7206
http://www.hubersuhnerinc.com
###