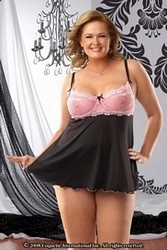 We are excited to meet the market's growing demand for stylish options for curvy women. Most women in America don't fit into the unrealistic standards set by high fashion - nor should they. We want to provide lingerie that will encourage women of all shapes and sizes to feel confident, beautiful and sexy
Lenexa, Kan. (PRWEB) May 5, 2008
According to INSIGHT BUSINESS, Over 60% of the female population in the United States wears plus size clothing and this industry generates $32 billion per year. Intimate apparel retailers know this, but very few have stepped up to carry many stylish designs in plus sizes. In light of this situation, Lingerie Diva is adding more plus size options to their inventory this week to meet the growing demand.
"We are excited to meet the market's growing demand for stylish options for curvy women. Most women in America don't fit into the unrealistic standards set by high fashion - nor should they. We want to provide lingerie that will encourage women of all shapes and sizes to feel confident, beautiful and sexy," Megan Kirchner, store manager, explained.
These new corsets, bustiers, and babydolls come from Shirley of Hollywood's "Intimate Attitudes" catalog. This catalog features the latest lingerie trends made in plus-sizes and it celebrates Shirley of Hollywood's 60th Diamond Anniversary.
Lingerie Diva believes that being curvy and being beautiful are not mutually exclusive. With these additions, plus-size women will have more options and will be able to wear elegant styles like everyone else.
About Lingerie Diva - Started in 1998, LingerieDiva.com is an online lingerie retail store that sells both misses and plus size lingerie. They sell well-known brands, including Dreamgirl, Elegant Moments, Coquette, Leg Avenue, Escante, and Shirley of Hollywood. Lingerie Diva is dedicated to staying involved in the fashion industry and keeping up with current trends and products. The company gladly accepts customer feedback and prides itself on putting its customers first.
###