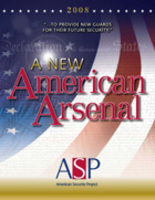 revolution in national security policy
Washington, DC (PRWEB) May 2, 2008
The American Security Project (ASP) this week released a groundbreaking new report that calls for a "revolution in national security policy" and lays the framework for bipartisan agreement on some of the nation's most pressing national security issues, including terrorism, energy dependence, climate change and the proliferation of nuclear weapons.
The document, entitled A New American Arsenal, is signed by American Security Project board members who are current and former Democratic and Republican U.S. Senators, former administration officials, high-ranking retired military officers and prominent civilian analysts and academics. They have dedicated their professional lives to U.S. national security issues and are united by a desire to leave behind the politics of security and engage the American people in a new and more productive dialogue.
A New American Arsenal was developed as a bipartisan effort to transform the way Americans think about and achieve their national security, promote the coordinated use of all the elements of American power abroad, and forge a new bipartisan consensus at home. It is also a roadmap for the next President and a tool to create a broader understanding of what Americans ought to be demanding from their leaders on national security.
"The next American President will face an exceedingly complex national security agenda beyond the wars in Iraq and Afghanistan," said Senator Gary Hart, President and Chairman of the American Security Project. "How we address these issues over the next two years will determine the course of America's national security for decades."
Most of the security challenges outlined in the report are new and different from those of the Cold War era. They range from increased risk of diversion of nuclear weapons to stateless groups and energy dependence that mires the U.S. in unstable regions of the world, to the security implications of climate change, such as the effect of climate refugees on strategic and nuclear-armed nations like India and Pakistan.
"Given the scale of the security challenges we face, they cannot be successfully addressed by the United States--or its military--alone, and they will not be solved in the course of the next presidential administration or by a single political party," said Senator Hart. "U.S. security today will require an effort of unprecedented national unity and cooperation with allies."
Some of the report's specific recommendations include, creating a new United Stated Information Agency, greatly expanding annual U.S. investment in research and development of alternative energy, and reorganizing and dramatically growing U.S. diplomatic capacity by expanding the Foreign Service by 20 percent.
A New American Arsenal also lays out broad recommendations for addressing each of the four major security issues. These include:
Terrorism:

Building new alliances and international frameworks to fight extremists by coordinating military, law enforcement and intelligence agencies and creating a sustainable international legal framework to combat terrorist movements;
Countering and undermining jihadist ideology in a more effective battle for hearts and minds in the Islamic world by expanding development assistance, trade and investment opportunities and health and education programs to raise economic prospects and increasing public diplomacy; and
Investing in alternative energy to begin to diversify energy sources for the U.S. and its allies.
Energy:

Strengthening the international concert of oil importing nations by encouraging the International Energy Association to admit China and India to its ranks;
Diversifying U.S. energy supplies by encouraging investment in environmentally responsible development of new oil and gas fields and renewable energy and expanding domestic refining capacity; and
Doubling annual U.S. investment in research and development of alternative energy, including hydrogen, clean coal and renewables.
Climate Change:

Actively leading the negotiation of an enforceable international framework to reverse global warming that is compatible with continued economic development;
Leading by example by adopting rigorous climate policies and investing in clean energy; and
Preparing now for the global consequences associated with predicted climate change, such as climate refugees and tropical disease migration.
Nuclear Proliferation:

Taking the lead in creating a new international consensus opposed to nuclear proliferation that can mount meaningful economic, political, and even military sanctions to deter and dissuade would-be proliferators;
Strengthening existing international frameworks, such as the Nuclear Non-Proliferation Treaty;
Changing the calculation states make of the cost and benefit in the pursuit of nuclear arms; and
Preventing terrorist organizations from acquiring and using nuclear weapons.
American Security Project board members who collaborated on and have endorsed A New American Arsenal include: Senator Gary Hart, Richard L. Armitage, Brigadier Gen. Stephen Cheney (USMC, Ret.), Lt. Gen. Daniel Christman (USA, Ret.), Nelson W. Cunningham, Kenneth M. Duberstein, Vice Adm. Lee F. Gunn (USN, Ret.), Senator Chuck Hagel, Lt. Gen. Claudia Kennedy (USA, Ret.), Senator John Kerry, Gen. Lester L. Lyles (USAF, Ret.), Senator George Mitchell, Senator Warren B. Rudman, David Thorne and Gen. Anthony Zinni (USMC, Ret.).
For more information or to read a copy of the full report, visit The American Security Project.
###