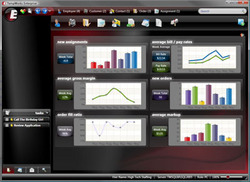 Our mission from day one has been to make staffing companies profitable by eliminating all non-revenue generating staff and allowing them to focus entirely on serving their customers and employees. With this massive launch of Enterprise, our clients have never been situated better to continue leveraging the best of technological innovation without disruption
St. Paul, MN, May 2, 2008 (PRWEB) May 2, 2008
TempWorks Software, a provider of staffing software and business service solutions for the staffing and human resource industries, today announced the migration of more than 40 staffing companies to its on-demand Select Edition staffing software which features Enterprise, a Microsoft® certified software solution.
Featuring state-of-the-art resume handling and task management, Enterprise opens the door to high-profit talent management and direct hire services to the staffing end-clients while integrating 100 percent with the back-office, time-clock and web services.
Productivity is heightened with Microsoft® Outlook integration, as users can view their email from within the application and create contact records, log messages, save/store documents and schedule new tasks or appointments from received messages.
"I love the ease of the Enterprise program. We work faster and more efficiently now – dropping the time from when a job order is placed to when the job is filled down from five days to two days. With Enterprise, we've enhanced our customer service and are able to communicate better with both clients and employees – which helped us win a large account with a local manufacturing company," says Kellie Wilson, Owner of Kellie Works Personnel Solutions. "Plus, Enterprise facilitates a paperless work environment which supports my goal of 'going green'."
"Our mission from day one has been to make staffing companies profitable by eliminating all non-revenue generating staff and allowing them to focus entirely on serving their customers and employees. With this massive launch of Enterprise, our clients have never been situated better to continue leveraging the best of technological innovation without disruption," says TempWorks Select Edition Vice President, Jathan Moline.
"TempWorks Enterprise is the millennial form of the old fashioned ATS and CRM. It engages even the most basic user with interactive icons and dragging techniques. Enterprise is both functional, effective and most of all, fun," stated Dawne Goodrich, EVP of ClasStaff, Inc.
With an objective to help all varieties and sizes of staffing firms to get their businesses up and running, TempWorks recently announced a new offer that allows staffing and recruiting firms and HR professionals to get a free trial of one of the TempWorks Enterprise solutions. The trials come in five editions: Evaluation Edition, Free Edition, CRM Edition, Front and Back-office Staffing Edition and HR Edition. Parties can register for the free trial on the TempWorks Software website.
About TempWorks Software
Innovating in staffing since 1959, TempWorks Software provides business solutions for staffing, recruiting and human resources. Designed to automate and streamline all facets of a staffing firm's daily operation, TempWorks offers fully-integrated front and back-office staffing software, web portals for customers, employees, applicants and vendor management, and 100 percent payroll funding. From recruiting to payroll and everything in between, TempWorks Software puts technology to work for staffing firms and their clients. For more information about TempWorks, please visit http://www.tempworks.com.
This press release was distributed through eMediawire by Human Resources Marketer (HR Marketer: http://www.HRmarketer.com) on behalf of the company
listed above.
###