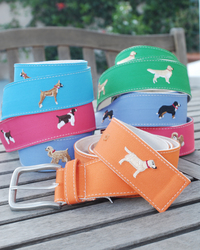 Chicago, IL and Los Angeles, CA (PRWEB) May 2, 2008
Dancing Dog Design, Inc. (dancingdogdesign.com) is pleased to announce the launch of their newest product, the "Best Friend Belt", May 2nd, 2008. The belt features embroidered dogs on brightly colored ribbon attached to a heavyweight canvas backing. The stylish belt comes in fifteen dog breeds and assorted vibrant colors in time for Mother's Day.
According to Pet Product News, the pet industry has been a steadily growing business with sales expected to reach $43 billion by the end of 2008. Up to now, clothing and accessories for the upscale breed enthusiast have been few. Dancing Dog Design fills that void by offering tasteful products that appeal to the well appointed dog lover. Women can now show the love for their dog breed with whimsical sophistication.
About the Company: Partners Kristen Beyer and Alexandra Hughes launched their company and signature product, the Canine Coat for Holiday '07. It was selected by The Bark magazine as a "Nifty Gift Pick" for its November/December '07 issue. It also was featured in the article, "Wearing the Dog" in the Spring '08 issue of The Colorado Dog Magazine.
The duo designs and manufactures and sells the "Canine Coat" barn jacket style in canvas with embroidered dogs. They strive to get accurate interpretations of each breed by studying breed standards and conformation images. Dancing Dog Design will feature an additional 12 breeds for Fall '08 bringing their total offering to 24 breeds.
The two met in 1992 while working at "The Limited Inc" in its sourcing and product development division.
Dancing Dog Design supports a variety of dog related organizations such as Canine Companions for Independence, California Rescue Dog Association, American Cancer Society- Dogswalk, Humane Society's Genesis Awards, AKC Wellness and various breed rescue groups throughout the country.
For media inquiries, please contact Kristen Beyer at 847-387-8578 or [email protected]
http://www.dancingdogdesign.com
###