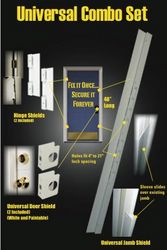 One thing that separates us is that we don't expect anyone to believe that our product works. Instead, we challenge everyone, with doubts, to purchase one, put it on a door and test it for him or herself. I get countless letters and calls from homeowners and maintenance people, thanking me for making a product that actually does what it says it does
Saddle Brook, NJ (PRWEB) May 2, 2008
Door Jamb Armor®, gains increasing exposure as a solution for the growing Home Invasion epidemic. As crime increases across the country, homeowners and property managers have found Door Jamb Armor® to be a simple and economic door security solution for home invasions, which often begin with a kick-in. Door Jamb Armor is also a very effective and inexpensive way to repair previously damaged doorjambs and insure that the same door will not be kicked in again.
Door Jamb Armor® products have been featured in multiple episodes of the Discovery Channel's show, "It Takes a Thief" and on HGTV. A rash of kick-ins in New York and Phoenix led Fox News in those markets to do feature stories on the product. Door Jamb Armor® has also been featured in countless national magazines and local newspapers.
According to the FBI Uniform Crime report and the US Department of Justice, in more than 70% of all home break-ins, thieves enter by kicking in a door. As the number of kick-ins and home invasions continue to increase, more people have begun to take notice of Door Jamb Armor®, a set of metal sleeves that slide over an existing door and wooden doorjamb to repair existing kick-in damage and/or to help prevent future invasions. An average 12 year-old can kick in an average entry door, with a deadbolt, and simply repairing a broken jamb, caused by a kick-in, can easily cost more than $500, in addition to what is stolen. Broken doorjamb repair has never been an easy task. It generally takes hours to repair a door that has been kicked in and recently completed door repairs are often kicked in again. Door Jamb Armor combines an easy repair alternative with door reinforcement for a total door security solution that is unlike anything else on the market.
Door Jamb Armor® was developed by the members of a real estate investment company with properties under renovation located in "transitional" areas. Following several break-ins, increasing property loss costs, and several failed attempts to solve the problem with existing solutions, they began to consider their own alternatives. The product was initially designed as an alternative to expensive security doors but is often used to repair broken jambs while also helping to prevent repeat offenses. Door Jamb Armor® comes as a set that includes one Jamb Shield, two Hinge Shields and two Door Shields. The product can be installed by most do-it-yourselfers in less than an hour and installation does not require any professional carpentry skills. Door Jamb Armor® is a very effective and economical alternative to expensive security doors or screens and the product is barely visible once installed on a door.
"I believe that we have been successful because we never set out to create a product. We were simply looking for a way to stop people from breaking into houses that we were renovating. When nothing that we could buy worked, we simply kept trying, testing and modifying different designs until we found what worked. We didn't begin marketing our product until we realized that kick-ins are a major problem that no one really talks about. Alarm companies have made homeowners believe that alerting you after someone is already inside is the way to protect your family or property. We, and a lot of others, have found out the hard way that the only way to protect a home is to keep the intruders on the outside. Alarm systems should be thought of as a home owner's last line of defense, not the first," says Alan S. Young, CEO.
Many people believe that a home security system, with off site monitoring, is all they need to keep their homes secure. In fact, alarm systems simply alert an owner that an intruder is already inside, and they do nothing to stop an intruder that has made the decision to enter a home. In addition, while the average police response time to a home alarm is greater than 20 minutes, an experienced thief is in and out of a house in less than 5 minutes.
Door Jamb Armor® was tested for more than a year before it was brought to market and has been thoroughly tested by customers, who are encouraged to test the product for themselves. Door Jamb Armor® is backed by a warranty that will pay the first $200 towards the purchaser's home owner's deductible if the product fails. Mr Young is a regular speaker on the topic of door security to police forces, police academies and other crime prevention organizations.
"One thing that separates us is that we don't expect anyone to believe that our product works. Instead, we challenge everyone, with doubts, to purchase one, put it on a door and test it for him or herself. I get countless letters and calls from homeowners and maintenance people, thanking me for making a product that actually does what it says it does," adds Mr. Young.
"This is the first entry door security product that I have seen in 25-plus years in this industry that actually works. This is the best new security product that I have seen in some time," advises Morris Carey, host of the "On The House" radio show.
Founded in 2004, Armor Concepts LLC designs and distributes proprietary security and repair products for homes, apartments and office buildings. Grainger and HD Supply distribute the Company's products nationally, in addition to numerous local hardware stores and locksmiths. Door Jamb Armor® will be available in selected Lowe's stores in late May 2008. For further information about Door Jamb Armor® and other Armor Concepts products, contact Alan S. Young, 280 N. Midland Avenue, Building L Saddle Brook, NJ 07663. Phone: 201-490-5381. E-mail: asyoung@djarmor.com
###