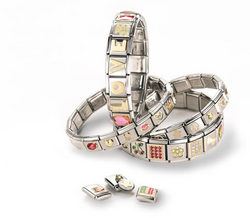 (PRWEB) May 7, 2008
The newly released Nomination Composable charm bracelet is a contemporary twist on a classic bangle and is now available to UK customers through distinguished online jewellery retailer HeBe Jewellery.
With more than 3,000 18ct gold, enamel, cubic zirconia, and gemstone charms to choose from, customers can fashion a unique bracelet for anyone and for any occasion. HeBe Jewellery specializes in Italian Nomination bracelets and maintains a large stock of charms for quick and easy ordering.
The fashionable, one-of-a-kind jewellery can be constructed for both men and women. To begin, customers choose from a starter bracelet of titanium, gold or stainless steel and add as many charms as desired. Nomination charms come in a wide variety of designs with special 18ct gold, enamel and cubic zirconia details.
Nomination Composable bracelets use a clever spring-loaded mechanism allowing each segment to be replaced, one by one, with a different decorative charm. Fashioned out of high quality stainless steel, the pieces are guaranteed never to tarnish or fade, leaving customers free to create their own individual Italian charm bracelet style.
To help in the charm bracelet creation process, Nomination provides a video tutorial and ideas for bracelets on their webpage http://www.nomination.com
Because they are 100 percent original and custom-made, Nomination Composable link bracelets make unique gifts. Anniversaries, engagements, weddings, birthdays, and other special occasions are the perfect opportunity to gift a unique Italian Nomination charm bracelet.
About HeBe Jewellery:
HeBe Jewellery is one of the UK's leading online jewellery retailers and authorized dealer of Windrose Jewellery Boxes, Nomination and Nick Hubbard jewellery collections, among many others. Customers can find quality jewellery pieces in gold, platinum, titanium, stainless steel, and a variety of gems for both him and her. HeBe Jewellery's large stock of silver necklaces, bracelets, earrings, and other jewellery means exceptional savings for customers.
To learn more about or to design your own Italian Nomination charm bracelet, visit http://www.hebejewellery.co.uk/nomination-italian-charm-bracelet.html.
###