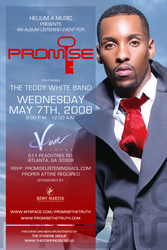 uncompromising character and his promise to stay true himself
Atlanta, GA (PRWEB) May 3, 2008
Promise, a charming & vibrant solo artist will take you on a stirring vocal journey at a private listening event on May 7, 2008 at 8 p.m. The popular Atlanta hotspot, Verve Lounge, will enthusiastically open its doors to host this up-and-coming artist debut accompanied by the invigorating Teddy White Band.
Born Luther Dawson, Promise began singing at the age of six. Growing up, he would formulate his circle of friends to comprise singing groups. It was by way of this four time habit that Promise realized he was the common denominator. With musical influences such as Stevie Wonder and Brian McKnight; coupled with his vocal abilities and charismatic personality, Promise knew that his dream as a solo artist will be fulfilled.
Now that Promise has come into his own, his debut album "PROMISES" has tracks produced by platinum producer Ced Solo, who has created hits for the likes of Anthony Hamilton, Ginuwine, Heather Headly and Beyonce to name a few. Promise wants the world to know him not only for his talent but his "uncompromising character and his promise to stay true himself". Today his motivation and commitment to his craft is fueled by honoring the memory of his father who unexpectedly passed before his solo career began. However with every loss comes great opportunity; a chance but destined cross of paths between John "Kofi" Buahin, CEO of Helium 4 Music has become a new chapter of great promise in his life. Kofi who is well linked to the Atlanta music scene immediately recognized his abundance of unique talent and did not hesitate to connect him with some of the most sought after producers in the industry.
In addition to the live performance, guests can expect to mix and mingle with local radio and music industry insiders as well as trendsetters and influencers in the Atlanta nightlife scene. This invite only event will be orchestrated by The Starfire Group and produced by Helium 4 Music. Helium 4 Music is an Atlanta based record label with the future expectations to work with talented individuals who truly enjoy making good music.
###