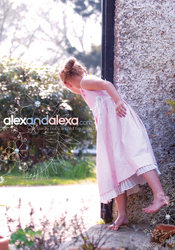 Our single-minded focus on quality and customer-service has provided dividends, we aim to continually improve our customer's online shopping experience
London, UK (PRWEB) May 5, 2008
Alexandalexa.com doubles its turnover in Q1 2008, and exclusively signs-up more must-have luxury Children's fashion Brands.
Alexandalexa.com continues to set the pace of online retail of Luxury Children's Wear, with new stock just arrived from acclaimed Brands Simonetta, Clements Ribeiro, American Outfitters and Muchacha. This will be the first time these Brands have released their license to sell online, which adds to other luxury Brand exclusives: Polo Ralph Lauren, Cacharel and Roberto Cavalli.
Founding Managing Director, Alex Theophanous, said, "Our success has been driven from giving access to never-before-available children's luxury fashion brands, we aim to lead the way with new signings later in the year - watch this space!".
Turnover continues to grow strongly, with April turnover double Christmas 2007's level. Visitor numbers have strongly grown, with around 20,000 visitors a month, 25% of which are returning customers.
"I'm delighted by our impressively loyal customer base, we've seen a quarter of our customers return each month, and fifty percent of these returning customers shop with us twice in a month", says Alex, "Our single-minded focus on quality and customer-service has provided dividends, we aim to continually improve our customer's online shopping experience".
The UK continues to be Europe's biggest online shopping market, with around £1bn spend on clothes (source: Mintel 2006). The total UK children's wear market is worth £6bn, with the Luxury end of the Market worth around £2bn (Keynote reporting 2006).
For additional information about the subject of this release, contact:
Alex Theophanous
+44 207 384 1505
http://www.alexandalexa.com
###