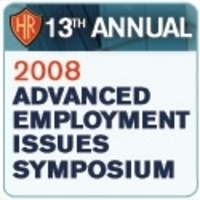 Advanced Employment Issues Symposium is so popular with HR professionals because they know that in 2 days they will learn everything they need to know to adjust to the ebbs and flows of the law. And they know that they will learn best-practices from some of the leading thinkers in employee onboarding, retention, and engagement, three areas that are key to profitability
Brentwood, TN (PRWEB) May 3, 2008
M. Lee Smith Publishers LLC has announced the agenda for the 2008 Advanced Employment Issues Symposium, America's leading employment law conference. This two-day event will be held September 25-26 in Las Vegas and October 16-17 in Nashville.
Now in its 13th year, the 2008 Symposium will bring together 35 of the nation's most experienced and knowledgeable employment law attorneys and hundreds of HR professionals to discuss the legislative, regulatory and judicial developments that are shifting the compliance landscape for employers. HR professionals learn about how these developments are forcing them to make changes in workplace policies on sexual, religious, an racial harassment, discrimination, employee leave and FMLA, retaliation, union organizing campaigns, religious observances, wellness programs, overtime, and others.
Sessions sure to interest HR professionals explore the rise of sex talk and racial intolerance in the workplace, the best response to rogue EEOC investigators, and ways to build a better work/life balance for employees. Others will reveal new ways of getting managers to document employee behavior, helping them execute appraisals, become better leaders, and clamp down on the IM, e-mail, and Web 2.0 problems arising from an increasingly electronic workplace.
"Advanced Employment Issues Symposium is so popular with HR professionals because they know that in 2 days they will learn everything they need to know to adjust to the ebbs and flows of the law. And they know that they will learn best-practices from some of the leading thinkers in employee onboarding, retention, and engagement, three areas that are key to profitability," says program moderator John B Phillips, Jr. Phillips is a partner with the law firm of Miller & Martin and formerly Assistant General Counsel with Coca-Cola Enterprises, Inc.
Joining the faculty are leading workplace consultants and authors, such as Hal Adler from the Great Place to Work Institute and Dr. Samantha Holmes of R&D Strategic Solutions. Mr. Adler will discuss employee engagement tactics used at highly-rated workplaces like Wegmans, Container Store, and Medtronic. Dr. Holmes, an expert on employment litigation, will discuss ways that HR professionals can succeed in depositions.
For more information, visit http://www.HRhero.com/aeis or call 800-274-6774
About M. Lee Smith Publishers LLC
Brentwood, Tennessee-based M. Lee Smith Publishers LLC is a 33-year-old provider of print, electronic, and live-event information resources to the corporate Human Resources and legal markets. Their list of largest clients closely matches the FORTUNE 500 while their overall customer base includes managers in every industry sector.
Contact: Pete McPherson, 615-661-0249, ext. 8057 or pmcpherson(at)mleesmith.com
This press release was distributed through eMediawire by Human Resources Marketer (HR Marketer: http://www.HRmarketer.com) on behalf of the company
listed above.
###