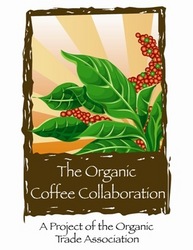 New York, NY (PRWEB) May 5, 2008
What: New organic coffees will be sampled and organic coffee market data announced at New York City's popular Union Square Cafe Tuesday, May 13, 2008, at an event hosted by the Organic Coffee Collaboration, a project of the Organic Trade Association. Participants in the Collaboration are Dallis Coffee , Elan Organic Coffees, Equal Exchange, Fresh Harvest Products, Green Mountain Coffee Roasters, and Swiss Water Decaffeinated Coffee Company.
Announcing the new market data is internationally recognized coffee market analyst Mr. Daniele Giovannucci who has tracked organic coffee data for decades and is the author of a number of books and reports on the topic including the April 2008 book on value-added standards in the North American food market by the Food and Agriculture Organization of the United Nations.
Data from the Organic Trade Association's 2007 Manufacturer Survey of the 2006 market indicated that U.S. organic coffee sales amounted to approximately $110 million in 2006, up 24 percent from the previous year. Other studies show the figure could be much higher. A 2007 survey by Giovannucci and the Sustainable Markets Intelligence Center (CIMS) reported that approximately 65 million pounds of organic coffee were imported into the United States in 2006 with a retail value of approximately $617 million. The authors estimate the organic coffee sector represented 2.3 percent of the total U.S. green coffee imports in 2006. The 33 percent annual average growth rate for the organic category documented by the researchers between 2000 and 2007 dwarfs the estimated 1.5-2 percent projected annual growth rate of the conventional coffee industry. Organic coffee is grown in 40 countries worldwide.
Where: The Union Square Cafe, 21 East 16th Street, New York City, NY 10003. Tel: 212-243-4020. Please RSVP to Sandra Marquardt (contact information below) as space is limited. Marquardt can set up interviews with any of the participants or arrange for Collaboration participants to send you samples. Attendees will each receive an organic cotton bag full of 6 pounds of the participants' organic coffees and will be able to sample them on site along with delicious organic fruit salad and morning pastries from Union Square Cafe Executive Chef Carmen Quagliata. Union Square Cafe serves organic coffee and has earned Zagat Survey's #1 ranking as New York's Most Popular Restaurant for an unprecedented seven years.
Contact: Sandra Marquardt, On the Mark Public Relations, tel: 301-592-0077, e-mail: smarquardt@onthemarkpr.com.
When: 8:30-10 a.m., Tuesday, May 13, 2008. RSVP by Wednesday, May 7, 2008.
Background:
Organic coffee is grown using methods and materials that have a low impact on the environment. Organic production systems replenish and maintain soil fertility, avoid the use of toxic and persistent pesticides and fertilizers, and build biologically diverse agriculture. Third-party certification organizations verify that organic farmers use only methods and materials allowed in organic production. Organic coffee is grown in approximately 40 countries, including the United States.
The Organic Coffee Collaboration - a project of the Organic Trade Association, the business association for the North American organic industry, includes:
Dallis Coffee (New York, NY) - A leading provider of organic and Fair Trade Certified™ coffees, selling to Whole Foods, universities and top cafés and restaurants across the country.
Elan Organic Coffees (San Diego, CA) - Elan Organic Coffees is a coffee developer and importer offering a line of certified organic socially responsible coffees it has developed through partnerships with village co-ops in coffee- producing countries. Elan has pioneered the supply of the world's finest certified organic coffees, while supporting farmers and protecting the environment.
Equal Exchange (West Bridgewater, MA) - Worker-owned, Fair Trade Certified™ cooperative and one of the largest U.S. organic coffee roasters.
Fresh Harvest Products, Inc. (New York, NY) - Its Wings of Nature® brand coffees are small-batch roasted to a temperature that peaks the flavor and aroma of each bean, and then custom blended after roasting to provide unique and flavorful varieties.
Green Mountain Coffee Roasters (Waterbury, VT) - Green Mountain Coffee Roasters is recognized as a leader in the specialty coffee industry for its award-winning coffees and socially responsible business practices. The company offers a broad selection of double-certified organic and Fair Trade coffees under the Green Mountain Coffee Roasters® and Newman's Own® Organics brands.
Swiss Water Decaffeinated Coffee Company (Vancouver, BC, Canada) - A wholesome process for decaffeinating coffee - pure water, 100% chemical-free - ensures the best of the bean remains, while only caffeine is removed. The company decaffeinates organic coffees for premium roasters including Elan Organic Coffees and Green Mountain Coffee Roasters. Look for the SWISS WATER® logo on pack or in store to guarantee great tasting, 99.9% caffeine-free coffee.
# # #