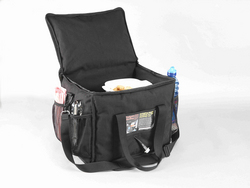 Birmingham, MI (PRWEB) May 4, 2008
Tailgate Cook Shop introduces a new, practical way to keep food oven-hot and safe for tailgate parties, summer picnics, boating and NASCAR races. The just introduced mesh pocket Tailgate Hotbag is the perfect way to bring hot food to any social gathering. The mesh pocket Electric Tailgate Hotbag has a rigid bottom, extra insulation and a zippered top to keep the heat in. Inside it's 14"w X 11"d X 12"h, plenty of room for an entire meal with independent thermostat controlled heating elements in the top and bottom to maintain a safe, constant 165-170 degree temperature. The bag also has a shoulder carrying strap, top handles and mesh pockets around the sides for condiments, napkins or beverages. The supplied 6' power cord plugs into any 12v outlet or use the optional AC adapter to heat the bag indefinitely.
The Electric Tailgate Hotbag also comes in two additional convenient sizes. The Side-Loading Electric Tailgate Hotbag is 17X18X5 and is perfect for keeping flat dishes like wings and casseroles oven hot. The Large Side-Loading Tailgate Hotbag is 17X19X12 and is best for big parties and foods that can be stacked, but need to be kept hot, like sandwiches and pizzas. Both bags have Velcro closing flaps, carrying handles and come with a 6' power cord that plugs into any 12v outlet to keep food oven-hot all the way to the party, even if it's hundreds of miles away.
All Electric Tailgate Hotbags are made with the highest quality materials available and come with a limited warranty found on the web site. To learn more about the Electric Tailgate Hotbag or to order, go to: http://www.TailgateHotbag.com
###