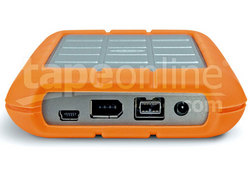 We're always on the lookout for new technology
Nashville, TN (PRWEB) May 5, 2008
TapeOnline has added Sony flash memory cards and LaCie hard drives to their extensive inventory of recording media related products -- blank DVDs, Mini DV tape, Blu-ray discs, professional videotape, data backup tape, disc publishers, and others. The new products can be found on TapeOnline's website at http://www.tapeonline.com.
SxS Pro Memory, Sony's new tapeless media, is a flash memory card based on the ExpressCard standard, a new and improved version of the PC card. SxS cards are compatible with Sony's new XDCAM EX series professional camcorders and provide HD recording, fast transfer rates, and increased workflow efficiency. Currently, TapeOnline sells 8 and 16 gigabyte capacity cards, and a 32 gigabyte version will be available soon. TapeOnline also sells the SxS ExpressCard reader that hooks up the solid-state cards to any computer via USB.
"We're always on the lookout for new technology," says Emily Feller, Purchasing Manager at TapeOnline. "The new LaCie hard drives and Sony cards are just the latest in a long line of high-tech products that we carry in addition to our traditional media offerings."
New LaCie items at TapeOnline include the Rugged Hard Drives, d2 Quadra Hard Disks, and the Ethernet Big Disks.
Rugged Hard Drives provide anywhere from 160 to 320 gigabytes of storage space. These portable hard drives combine both form and function. They're extremely durable, compact, and stylish. They can easily fit in a purse or computer bag.
The d2 Quadra hard disks have a vast storage capacity, up to 1 terabyte with the model 301827U. Weighing less than four pounds, the d2 Quadra drives offer 4 interfaces, eSATA, FireWire 400/800, and USB 2.0, for maximum compatibility. Plus, the drive is extremely quiet because of its fanless cooling system.
The Ethernet Big Disks live up to their name with enormous capacity, up to 2 terabytes, that's fully networkable at gigabit speeds. They're easily managed from any compatible browser to allow authorized access to multiple users and shared data folders.
Reasonably priced, the 160GB Rugged Hard Drive is $125, while the 2 terabyte Ethernet Hard Disk is only $573. Sony SxS cards start at $476 for the 8 gig version and $855 for the 16 gig model.
About TapeOnline.com
TapeOnline.com is an authorized dealer for Sony, Fujifilm, Maxell, Imation, Microboards, Rimage, and others. TapeOnline provides an extensive inventory of blank media, audio, video, data products, duplicators, burners, labels, bulbs, batteries, and related accessories at competitive prices locally and worldwide. With warehouses in both Dallas and Nashville, TapeOnline is able to keep costs low and ship products fast.
###