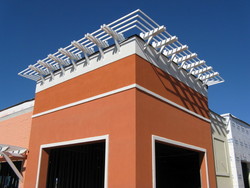 Monticello, FL (PRWEB) May 4, 2008
Nature Bridges (naturebridges.com), a leading bridge company, specializing in top-down construction for environmentally sensitive areas announced today it has completed Phase II of wood trellis construction for the Pier Park Lifestyle Center.
Located in the center of Panama City Beach Florida, Pier Park is a Simon "Signature Project" serving as the premier shopping destination for the Panama City market and the entire Emerald Coast. Nature Bridges started the second phase of wood trellis construction in November of 2007 and completed the project last month.
During the second phase of wood trellis construction, Nature Bridges constructed over 12,000 feet of trellis systems, decorative rafter tails, wooden struts and steel wall brackets. The wood trellises added a beautiful decorative touch to the lifestyle center.
The 900,000 square foot retail and entertainment complex opened in February and hosts a variety of retailers, theaters, and restaurants. Located on Front Beach Road in the heart of Panama City Beach, Pier Park is ideally located to serve the area's growing residential community, exploding condo market, and over 7 million tourists that visit each year.
About Simon Properties
Simon Property Group, Inc. is an S&P 500 company and the largest public U.S. real estate company. Simon is a fully integrated real estate company which operates from five retail real estate platforms: regional malls, Premium Outlet Centers®, The Mills®, community/lifestyle centers and international properties. It currently owns or has an interest in 379 properties comprising 258 million square feet of gross leasable area in North America, Europe and Asia. The Company is headquartered in Indianapolis, Indiana and employs more than 4,500 people worldwide. Simon Property Group, Inc. is publicly traded on the NYSE under the symbol SPG and has a current total market capitalization of approximately $50 billion.
About the Leading Bridge Company and Wood Trellis Specialists, Nature Bridges
Located in Monticello, Florida, Nature Bridges is a leading construction firm specializing in top down construction of timber bridges, pedestrian boardwalks, and through environmentally sensitive areas. The company also offers a wide variety of development amenities including golf cart bridges, architecturally-designed wood trellises, fencing, pavilions, decks, docks, timber retaining walls as well as DOT-approved timber curbing, guardrails, and roadside walkways. For more information, contact Nature Bridges at 850-997-8585 or visit naturebridges.com.
###