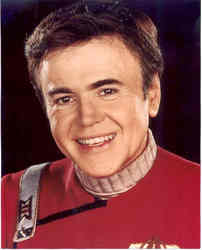 Working with Mr Shatner was a thrill of a lifetime and it will be an honor to work with Mr. Koenig - and future celebrities we invite each year.
Riverside, Iowa (PRWEB) May 5, 2008
The Riverside Area Community Club (RACC) is pleased to announce Walter Koenig (Chekov character on the original Star Trek TV series) will beam into Riverside, Iowa on June 27th & 28th for the 24th annual Trek Fest. Koenig will act as the Grand Marshall in the town parade (10 AM Saturday morning) and judge a costume contest and sign autographs.
RACC president, Carol Riggan, said, "We are thrilled to have Mr. Koenig this year. The Voyage Home - Riverside History Center just opened and Mr Koenig will participate in a ribbon cutting ceremony on Friday the 27th at 7pm. One exhibit in the museum will feature photos, books and various other memorabilia as a tribute to Walter Koenig."
Riverside, Iowa is known worldwide as the future birthplace of Captain James T. Kirk. In 2004, William Shatner (who played Kirk) came to town and filmed a Spike TV reality show called "Invasion Iowa." Shatner tricked the town into thinking he was filming a movie, but was really filming the town's reaction to the craziness of Hollywood. Scotty Riggan (Carol's husband) appeared in the show as Shatner's personal assistant. Scotty will carry on this tradition for Mr. Koenig working as his personal assistant during his stay in Iowa.
Scotty said, "Working with Mr Shatner was a thrill of a lifetime and it will be an honor to work with Mr. Koenig - and future celebrities we invite each year."
Trek Fest's 2008 theme is called Bread and Circuses, a second season episode title of Star Trek. A variety of family activities are planned including a demolition derby, a garden tractor pull, carnival rides, live music, costume contest, a Sci-Fi vendor area and much more. This is a small-town fair with a Sci-Fi flair. Money raised by RACC is used to help out the community such as academic scholarships. RACC also sponsors special projects like new playground equipment.
For more festival information, call 319-648-KIRK (5475) or visit http://www.trekfest.com
Trek Fest Schedule of Events -
-- FRIDAY, JUNE 27
5:00 p.m. D & B Carnival Rides, Food Booths & Beer Garden Opens; 6:00 p.m. Dunk Tank; 6:30 p.m. Kids Parade; Line-up River Street, finish at Hall Park, 7:00 p.m. Pet Show (Main Stage); Walter Koenig (CHEKOV) exhibit, ribbon cutting (Riverside History Center). 7:30 p.m. Demolition Derby (Adult $7, 12-5 Years $3, Under 5 Years Free) Southeast corner of Hall Park. Free Music in the Park.
-- SATURDAY, JUNE 28
10:00 a.m. Parade-Star Trek episode theme: "Bread and Circuses" - Parade Grand Marshall is Walter Koenig; 11 a.m. D & B Carnival begins; 11 a.m.-2 p.m. BBQ Sandwich Meal served at North end of Hall Park-Covered shelter; 11 p.m.-3 p.m. Kid's Free Face Painting (North end of Hall Park); 11 a.m. Volleyball Tournament; 11-2 p.pm Car & Tractor Show; 11 a.m. Costume Contest-Main Stage-Walter Koenig Judging the contest: Two categories "Federation & Klingon" and "Supporting Cast" 1st place-$100 2nd place-$75; 11 a.m Star Trek episode viewing in the Red Barn; 11 a.m Sci Fi Swap Meet (North of Main Stage); 12 p.m. State Fair Talent Show-Main Stage; 12 p.m. The Great Trek Scavenger Hunt $100 First Prize, register RACC tent; 1-5 p.m. Tee-Ball Tournament; 1 p.m. Cow Chip Bingo 50/50 pay back; 1 p.m Dunk Tank, 1:30 p.m. Kid's Tractor Pull (East of Red barn on Ella Street-Hall Park). 2 p.m. Lawn Mower Tractor Pull; 2-5 p.m. New Fire Station - Meet & Greet/Autographs Walter Koenig - original cast member of Star Trek (Chekov); 3 p.m. Golf Cart Rodeo; 3 p.m. Gunny The Clown; 3-5 p.m. Bingo, Hall Park (prizes); 4 p.m. Greased Pig Contest (Weather permitting) Ages 5-10 (North of East Ball field near trees for shade); 5:30 p.m. Duck Race English River, $1 each 50/50 pay off; 8:30-12:30 p.m. "Morning After Band" Live Band, Main Stage Adult-$5, Under 12 FREE; Raffle Drawing 50/50 Cash Pay back - Main Stage. 10 p.m. Fireworks By Stumptown Shooters.
###