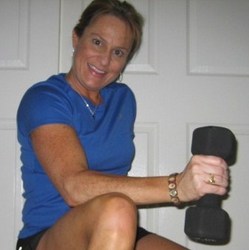 Any Body Fitness - fitness for any body and now any time because we are on-line!
Richmond, TX (PRWEB) May 16, 2008

Kathie Owen, a resident of Richmond, TX, was re-certified with the status of qualified Personal Trainer by the ISSA for successfully completing the requirements of three fitness certifications. Certified Fitness Trainer (CFT), Specialist in Sport Conditioning (SSC), and Specialist in Fitness for Older Adults (SFOA) these 3 Fitness Education courses were successfully renewed May, 1, 2008, thereby extending her certifications until May 2010. She was originally certified in 2002 and has been a personal trainer at TW Davis YMCA where she has been employed and on the fitness staff since 2000. She has also trained clients on-site in and around the community. In July, 2007 she began training clients at LA Fitness in Sugar Land.
The International Sports Sciences Association (ISSA) has recently been mentioned in stories appearing on the Discovery channel, WebMD, Oxygen, Men's Health Magazine, and regularly appears in Muscle & Fitness magazine as well as countless other national media outlets. The ISSA provides Fitness Education courses to passionate fitness enthusiasts nationwide and many countries worldwide.
During the past decade there has been an explosion of interest in fitness and wellness -- and the ISSA pioneered the path more than 20 years ago. Because of properly prepared ISSA fitness trainers such as Kathie Owen, millions of people have discovered a healthier lifestyle through resistance training, cardiovascular exercise, proper nutrition, flexibility training, and a positive mental outlook.
Kathie Owen's passion for fitness led her to serve the community of Richmond, Texas where she teaches people to use fitness equipment, helps adults strengthen their musculoskeletal system and increase cardiovascular endurance. She works intensively with the older adult community. She leads group exercise classes such as Water Aerobics and Silver Sneakers®. She maintains a website where she successfully conducts on-line personal training which includes a complete cardiovascular, strength training, and nutrition plan for clients all over the world. On this website there is a plethora of free fitness information including wellness articles, healthy recipes, and fitness tools. For more information about Kathie visit her website at http://www.anybodyfitnesstexas.com
About ISSA
Since 1988 the International Sports Sciences Association (ISSA) has provided certification and continuing education to over 75,000 satisfied fitness professionals. ISSA certifications are recognized worldwide. From Youth Fitness to Senior Fitness, ISSA offers 10 certification programs and dozens of continuing education courses. For more information on the ISSA, or to schedule an interview with an ISSA please visit: http://www.issaonline.com
About Kathie and Any Body Fitness
Kathie Owen holds certifications with International Sports Sciences Association (ISSA) as a Certified Fitness Trainer (CFT), Specialist in Older Adult Fitness (SFOA), and Specialist in Sports Conditioning (SSC). Kathie's edge on the market has to do with stress and the fight-or-flight response humans have instinctively. She applies interval fitness training to all her clients in support of stress reduction, calorie burn, and endurance building which everyone needs to improve quality of life. Mind, body, spirit are the core aspects of her training philosophy.
Currently Kathie trains one-on-one in the community of Richmond, Texas working with organizations such as the TW Davis YMCA and LA Fitness. She conducts group fitness classes in the swimming pool, Silver Sneakers® - a chair based exercise program for active seniors, and personal training for shut-in seniors and retirement communities, as well as personal training on site for any body.
Any Body Fitness was established in 2002 by Kathie. " Any Body Fitness - fitness for any body and now any time because we are on-line!"
Contact: Kathie Owen, Owner
Any Body Fitness
281-650-1445
For more information and for on-line fitness and nutrition training please visit her website: http://www.anybodyfitnesstexas.com
###