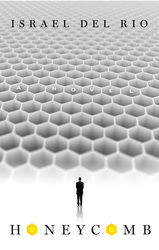 Think of the novels of Carlos Castaneda as well as 'The Celestine Prophecy' and 'The Alchemist', New Age fiction has been maturing with a very specific identity. 'Honeycomb' is about providing entertaining reading, but also about sharing the questions and wonderment about the subjects of reincarnation and free will
Atlanta, GA (PRWEB) May 6, 2008
'Honeycomb', a work of New Age fiction by Israel del Rio has been published. Honeycomb is about a mysterious gift of honey that unlocks memories of a time before birth. A man finds himself in a place known as the Honeycomb where a spiritual guide presents him the rare opportunity to review and choose his next life from a rack of scrolls.
The book asks, "What would you do if you were given the chance to review and choose your next life? Would you choose one for its wealth, or for its happiness? Would you choose one for its challenge, or for its simplicity?"
From the wealthy tycoon whose materialism blinds him to the love of his girlfriend, to the Native American vying to end his solitary life in the mountains of New Mexico, to the desperate man taking extreme actions to save his terminally ill daughter and, lastly, to a software programmer losing his job and facing divorce; the protagonist learns that each life is fraught with challenges, emotions, and rewards, making the decision of what life to choose much more difficult than first imagined.
It gradually becomes clear that each life is intertwined with the other in surprising ways, but which life will the man ultimately accept?
With a blend of magical realism, humor, and drama, Honeycomb presents an intriguing exploration of the manner of our existence, and on whether we all actually partake in a shared consciousness.
"Think of the novels of Carlos Castaneda as well as 'The Celestine Prophecy' and 'The Alchemist', New Age fiction has been maturing with a very specific identity. 'Honeycomb' is about providing entertaining reading, but also about sharing the questions and wonderment about the subjects of reincarnation and free will," said author Israel del Rio.
For additional information or for directions on how to order, contact Israel del Rio or visit http://honeycomb.paxorbis.com. The 298 page novel retails for $15, and it is available via amazon.com, and for the Kindle.
Contact:
Israel del Rio
914-837-3175
israel @ paxorbis.com
###