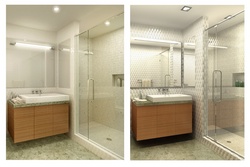 We are able to offer a deep discount by anticipating our client's particular needs and restructuring the rendering process accordingly to deliver highly focused rendering packages without sacrificing quality
New York, NY (PRWEB) May 5, 2008
Dreampix Design, specializing in 3D computer generated imagery (CGI), has created photorealistic renderings for marketers of real estate developments since the technology became popular in the marketing of real estate. Their team of tech-savvy designers is responsible for bridging an architect's vision with a buyer's reality and making the property come alive, in most cases, while the development is still under construction.
"We strive to exceed our client's needs and expectations every step of the way," comments Kimberly Cooper, Director of Sales and Marketing at Dreampix, "and this means understanding the industry which we are servicing. As the real estate market wavers, the cost of materials inflates, and demand fails to meet supply, developers are left with increasingly tighter budgets and greater marketing challenges. We understand their need for cost-effective solutions in marketing strategy and have implemented discounted pricing options for custom tailored rendering packages of comparable quality."
To address the financial concerns raised by the current housing crisis, Dreampix Design is offering a new price option for impacted developers seeking a cost-effective means to successfully market their properties. Dreampix Design will price this option 40% to 60% lower than its traditional rates which start at $3,500. "We are able to offer a deep discount by anticipating our client's particular needs and restructuring the rendering process accordingly to deliver highly focused rendering packages without sacrificing quality," explains Cooper.
About Dreampix Design:
Dreampix Design is a leading provider of creative visual communication solutions. With a team of expert designers specializing in 3D computer generated imagery (CGI), Dreampix Design offers a broad range of creative services including development of photorealistic renderings, animations, and interactive media as well as graphic design, video editing, website design, and photography. Dreampix Design delivers the flawless visual package to complete a customized graphic communication strategy for any specified marketing, advertisement, entertainment, development, or design goal and respective audience.
For more information, please visit http://www.dreampixdesign.com.
###