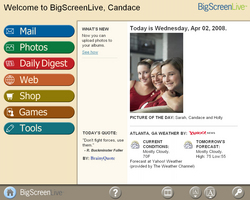 Many of these adults are not taking advantage of some of the most enjoyable aspects of the computer such as photo sharing, shopping online or exploring the Internet. BigScreenLive is focused on making computers as useful and friendly for 60+ adults as they are for younger family members.
Seattle, WA (PRWEB) May 6, 2008
BigScreenLive, an innovative new software solution uniquely focused on making computers easier to use for older adults, is now available nationwide. Intended for use on personal computers in homes, community centers and retirement communities, BigScreenLive is specifically designed to help seniors stay connected to their family and friends through email and photo sharing and provides an easy way to explore the Internet. Memberships can be purchased via http://www.bigscreenlive.com and Amazon.com.
"There are 51 million residents over the age of 60 in the U.S.," said Cayce Roy, CEO for BigScreenLive. "Many of these adults are not taking advantage of some of the most enjoyable aspects of the computer such as photo sharing, shopping online or exploring the Internet. BigScreenLive is focused on making computers as useful and friendly for 60+ adults as they are for younger family members."
BigScreenLive has been developed to meet the unique needs of older adults and their families. An initial version of the product was successfully piloted throughout the Seattle area last year.
Staying Connected, Living Longer
Research indicates seniors who maintain strong social connections live longer, more fulfilling lives. In fact, a Pew Research Study noted that 56% of seniors who used computers felt the internet improved their connections with family.
BigScreenLive aims to bridge the technology gap between generations. The product provides a welcoming online world for older adults, regardless of computing proficiency.
Key features of BigScreenLive include:

Easy Navigation. Larger fonts and intuitive graphic interface, such as ever-present color coded icons make it easy to switch between online activities, eliminating the confusion around opening, closing and toggling between traditional software programs.
One Click Photo-Sharing. Members and their families can easily create photo albums, store pictures and share pictures via email. Pictures can be moved between albums, attached to email messages or saved from email with just one click.
Quick Links. BigScreenLive provides members with a starter list of content to provide instant access to online shopping sites, fun games and the latest news and information in categories such as personal finance, health, sports and travel.
Simple Set-Up. BigScreenLive can be either downloaded from the internet or installed via a USB thumb drive that is pre-loaded with the software. Account set up takes as little as five minutes and provides immediate access to all the features of BigScreenLive and includes a personal email account.
Spam and Virus Protection. BigScreenLive offers a protected environment that eliminates everyday internet annoyances such as unsolicited advertising, email and viruses. No more pop-ups or spam.
No Computer Needed. Every BigScreenLive member receives a USB thumb drive with their subscription, making it easy to enjoy Big Screen Live no matter what computer is used. Members can switch between their personal computers, the computers at the library or community center and computers in their families' homes.
"BigScreenLive is a terrific tool that supports Aegis' goal of fostering a vibrant living experience," said Steve Kregel, Senior Vice President of Operations at Aegis Living. "Not only does it deliver on its promise of easy and fun, it has helped our residents stay connected with their family and friends."
Just In Time for Mother's Day
BigScreenLive is offered to meet the needs of individual adults, their families, and organizations that serve the older adult community. Memberships can be purchased by individual adults for themselves or as a gift for a relative or friend. Basic requirements are a PC with Windows XP or Vista, a monitor 17" or larger and a high speed internet connection.
The Individual Adult Membership offers full access to all the features and benefits of BigScreenLive including unlimited family accounts and BigScreenLive To-Go. BigScreenLive To-Go is a USB thumb drive pre-loaded with the BigScreenLive service that enables customers to use their BigScreenLive account on any computer. Memberships are currently available for as low as $9.95 per month with an annual membership. A six-month membership is available for $49.95. Additionally, those interested in test-driving BigScreenLive can sign up for a free 30-day trial membership at http://www.bigscreenlive.com.
Family Accounts provide an online portal that allows families to interact directly with the senior adult member via BigScreenLive. In addition to sharing photos and address book information, family members can play games together and bookmark interesting websites for each other. Individual emails are not shareable and everyone can have their own personal photo albums, protecting each member's privacy. Family members can purchase an Individual Adult Membership as a gift for the senior adult in their family and add an unlimited number of family accounts free of charge.
Community Packages are specifically designed for use in locations where senior adults gather such as community centers, libraries and independent living centers. BigScreenLive provides an opportunity for leaders of these organizations to offer an easy-to-use computing environment that helps their constituents stay connected to family and old friends or stay current with news, health information and entertainment. Additionally, BigScreenLive can be customized to provide a communications channel for information such as event schedules, activity listings, available services, newsletters and photos from recent events.
Initially, Community Package sales efforts will focus on larger regional organizations and those in Seattle and surrounding cities. However, inquiries from representatives of senior adult communities from anywhere in the United States are welcome.
About BigScreenLive
BigScreenLive is a software solution that aims to help senior adults become active online participants. By making computers easier to use and more conducive to the needs of this generation, BigScreenLive hopes to improve the quality of life for senior adults by helping them stay connected to family, friends and community. BigScreenLive represents the spirit of Web 2.0 by using the latest technology to foster greater collaboration between generations and making the web more accessible to all.
###