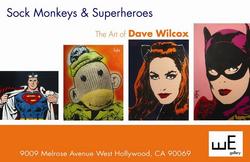 West Hollywood, CA (PRWEB) May 5, 2008
Sock Monkeys & Superheroes Take Over West Hollywood...
WHAT: Wilcox & Esada Gallery is pleased to present Sock Monkey's
Superheroes by Dave Wilcox.
WHY: This collection is an important transitional grouping of the artist's work combining Wilcox's photo-realism superhero series and builds a bridge to a new graffiti influenced technique with an adventure into his sock monkey series. Art for kids of all ages, it's juvenile but intellectual, colorful and impressionistic yet strangely precise.
WHEN: Opening Reception is 6 PM-9PM, Friday, May 9, 2008t
Exhibit runs through end of May 2008
WHERE: Wilcox & Esada Gallery
9009 Melrose Avenue
West Hollywood, California 90069
310-724-5705
Contact: Randy Esada
(323) 356-9936
###