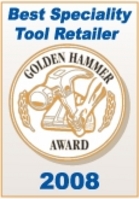 Specialty Retailer of the Year
Lakewood, CO (PRWEB) May 8, 2008
ToolKing.com, Lakewood, Colo., has earned a Golden Hammer Award from Lebhar-Friedman, Inc., publisher of Home Channel News. The awards recognize companies and individuals who excel at moving home building and improvement products from manufacturer to user. ToolKing.com is receiving the award as "Specialty Retailer of the Year" at the 24th annual Golden Hammer Awards banquet, held May 6, 2007 at the National Hardware Show in Las Vegas, Nevada.
"We are proud and excited about the attention the Golden Hammer Award brings to our company," said founder and managing partner Don Cohen. "It is a real feather in our cap to be recognized by a publication like Home Channel News. We view it as an acknowledgment of the service and expertise we bring to our customers."
Tool King, LLC, began in 1978 as a tool retail store in Colorado. Cohen was inspired to make Tool King an Internet retailer after his second attempt to sell a tool on eBay netted $7. ToolKing.com was launched in 2001 and was recognized just four years later by Internet Retailer as one of the Internet's Top 5 Home Improvement Web sites.
A key ToolKing.com innovation was the launch of Toologics.com in 2007. On this social networking site tool users read reviews, view video of tools in action, share their experiences and ask ToolKing.com experts for specific advice on selecting and using tools.
ToolKing.com distributes nearly 20,000 new and factory-reconditioned tools and related products to customers worldwide. In addition to power tools for woodworking, construction and remodeling, they sell automotive tools, jobsite equipment and storage, and welding accessories.
About ToolKing.com
Tool King, LLC, Lakewood, Colorado, was founded in 1978 as a retailer dedicated to selling professional- and shop-grade tools to contractors, builders, woodworkers and do-it-yourselfers. The company launched ToolKing.com in 2001 to offer customers broader selection, online shopping convenience and competitive pricing. Committed to a higher level of service than big-box stores or other online retailers, Tool King introduced Toologics.com in 2007, where their staff delivers expert advice on how to select the best tool for the job and use it most effectively.
###