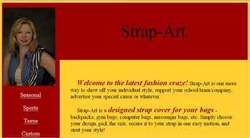 New York, NY (PRWEB) May 6, 2008
People everywhere have caught on to the up-and-coming fashion craze that turns blah bags into fabulous ones. Strap-Art allows individuals to express their styles while coordinating with their daily outfits. From matching shoes to bags and belts to headbands, consumers understand the importance of individual style. These fashionable fabric covers are designed to transform otherwise unsightly bag straps into unique messenger bags, computer bags and, gym bags. Strap-Art now proudly announces new nationwide publicity including magazines, Internet sites, beauty pageants, and retail toy stores.
As the next big fashion craze, Strap-Art is understandably being recognized in the industry by fashion leaders such as supermodel, television personality, talk show host, and businessperson Tyra Banks, and the prestigious Miss USA Pageant.
Strap-Art was recently featured at the 2008 Miss USA Pageant in the gift bags for pageant contestants, judges, and celebrities. Each bag received contained a unique Strap-Art design and the Stars and Strips designed strap cover. In addition, the Tyra Banks website is holding a Miss USA Luxury Gift Bag contest. Contestants can enter to win a luxury gift bag that features the same gifts that where given away at the pageant.
Featured in "In Touch" magazine, Strap-Art is also gaining national print recognition. From beauty pageants to fashion magazines, Strap-Art is working to change the way people wear bags. In addition, Strap-Art announces acceptance at the FAO Schwarz Annual Toy Auditions. By achieving this esteemed honor, Strap-Art is hoping to extend its line of strap covers that can make any bag into fashionable or unique messenger bags to a larger consumer audience.
Consumers are able to select the designs and sizes of the shoulder bag straps that they wish to purchase. With cute prints, sporty styles, animal patterns, camouflage prints, and retro designs, fashionistas everywhere can begin to transform their bags. Strap-Art covers come in both short and long sizes. The short style fits most bookbag straps, while the long style fits messenger, laptop, and duffel bag straps. By simply securing the strap on in one easy motion, individuals can transform their unoriginal bags into fashionable laptop bags, backpacks, duffel bags, and messenger bags.
To browse through the styles available for fashionable laptop bags, gym bags, bookbags, and messenger bags, please visit Strap-Art.com.
About Strap-Art.com:
John Martinez is a renowned New York City Entrepreneur that saw the need for fashion on the hundreds of ugly black bag straps he saw daily. He consulted with New York and Connecticut interior designer Lynne Einsel to develop Strap-Art. As opposed to the latest designer bag fashion craze, the newly released Strap-Art bag strap covers are an affordable yet stylish alternative to owning multiple expensive bags.
###