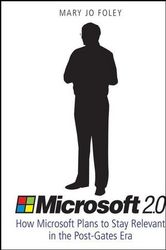 When I want to know what's going on inside Microsoft, I turn to Mary Jo Foley. She knows more about what's going on in Redmond than most insiders
Hoboken, NJ (PRWEB) May 6, 2008
On July 1, 2008, a new chapter begins for tech-industry giant Microsoft. On that day, Microsoft Chairman Bill Gates will no longer be involved with the daily goings-on of the company he founded more than 30 years ago. Microsoft's official message is that nothing will change; it will be business as usual. But as anyone who has studied Microsoft knows, a Microsoft without Gates participating in product reviews and articulating Microsoft's strategies and priorities is going to be a very different company.
This year marks a new period for Microsoft -- its 2.0 phase, if you will. It comes at a time when some industry watchers characterize Microsoft as a has-been which will never be able to regain the same level of industry dominance as it once enjoyed. Others believe Microsoft will never be toppled from its perch, simply due to its size and its history; Mary Jo Foley falls somewhere in between these two extremes and she has authored a new title about it: Microsoft 2.0 How Microsoft Plans to Stay Relevant in the Post-Gates Era (John Wiley & Sons, Inc; May 2008; $27.95).
Mary Jo Foley has spent almost all of her 25-years as a journalist watching and writing about Microsoft. Throughout the pages of Microsoft 2.0, Foley provides a unique vantage point from which to speculate on how Microsoft might write its next chapter. Identifying signposts and interpreting clues she knows well, Foley offers a thought-provoking view of the software giant's post-Gates game plan -- and challenges to it.
"Mary Jo Foley has the correct scoop on everything Microsoft does, usually long before everyone else is repeating their press releases. I'm ordering copies of Microsoft 2.0 for everyone at my company, and if your career has anything to do with Microsoft, I suggest you do the same" said Scott Braden, author of Microsoft License Secrets (http://www.netnetweb.com)
This is a book about Microsoft's future, not its past. The coming years will be challenging ones for the Redmond software kingpin. Many of the executives currently leading the Microsoft charge are likely to go their own way. Technology will continue to advance at a breakneck pace. Microsoft will forge deals of the size and scope it previously never envisioned in order to keep pace. Foley doesn't claim to possess a crystal ball, allowing her to predict flawlessly what Microsoft plans to do in the next few years … or even few months.
But based on the many Microsoft executives, partners, customers and competitors with whom she converses regularly, she in a good position to make informed predictions that will be most interesting to her readers. "When I want to know what's going on inside Microsoft, I turn to Mary Jo Foley. She knows more about what's going on in Redmond than most insiders" said Ed Bott, award-winning technology writer (http://blogs.zdnet.com/bott)
If you would like a review copy of this book, or an interview with the author please contact Ashley Evens via email: phone: 201.748.6702.
Microsoft 2.0 How Microsoft Plans to Stay Relevant in the Post-Gates Era
Published by John Wiley & Sons
Publication date: May 19th, 2008
$27.95; Paperback; 304 pages;
ISBN: 978-0-470-19138-5
To download a sample chapter, or for more information visit:
http://www.wiley.com/WileyCDA/WileyTitle/productCd-0470191384.html
About the Author
Mary Jo Foley (New York, New York) has worked for a variety of publications and Web publishers, including CNET's News.com; ZDNet; PCWeek/eWEEK; PC Magazine, Redmond Magazine; and CRN. She is a full-time freelancer, specializing in anything and everything to do with Microsoft. blogs.zdnet.com/Microsoft is her blog where she posts daily Microsoft news and analysis. She has won several industry awards, including the Jesse H. Neale award for Editorial Excellence, and an American Society of Business Press Editors award for her ZDNet column about Microsoft called "At the Evil Empire." She is a frequent commentator on TV and radio, as well as in print, on a wide range of Microsoft-related topics.
About Wiley
Founded in 1807, John Wiley & Sons, Inc. has been a valued source of information and understanding for 200 years, helping people around the world meet their needs and fulfill their aspirations. Since 1901, Wiley and its acquired companies have published the works of more than 350 Nobel laureates in all categories: Literature, Economics, Physiology or Medicine, Physics, Chemistry and Peace.
Our core businesses publish scientific, technical, medical and scholarly journals, encyclopedias, books, and online products and services; professional/trade books, subscription products, training materials, and online applications and websites; and educational materials for undergraduate and graduate students and lifelong learners. Wiley's global headquarters are located in Hoboken, New Jersey, with operations in the U.S., Europe, Asia, Canada, and Australia. The Company's Web site can be accessed at http://www.wiley.com. The Company is listed on the New York Stock Exchange under the symbols JWa and JWb.
###