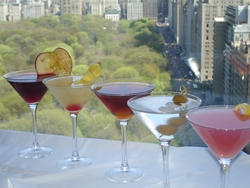 New York, NY (PRWEB) May 6, 2008
Mandarin Oriental, New York is delighted to announce the launch of its new Sex and the City Celebration Package in honor of the show's highly anticipated movie release May 30, 2008. Fans of the show from around the world can indulge their inner Carrie, Samantha, Miranda or Charlotte with a delicious bite of the Big Apple that even the fabulous foursome would envy.
Guests who book the Sex and the City Celebration Package will be off to a glamorous start to their Manhattan getaway when they check into a luxurious guestroom or suite at Mandarin Oriental, the city's most sophisticated Five-Star hotel. To get off to a shopping start, guests will receive a USD 200 gift card to famed specialty department store Henri Bendel -- a favorite haunt of Carrie Bradshaw's and the show's stylist/costume designer Patricia Field. During their stay, guests will be whisked away via limousine on the Sex and the City Hotspots tour, courtesy of On Location Tours where guides divulge behind-the-scenes stories from the days of filming the series and review secrets about the upcoming movie. The tour highlights some of the show's most notorious locations, including the familiar brownstone that played Carrie Bradshaw's home, celebrated brunch location Pastis, exclusive SoHo House and more. Also featured is a stop at Henri Bendel with a personal shopper leading the way through the store's extensive designer collections of cutting-edge fashion and cosmetics. At the store, guests will receive a gift from leading intimate apparel designer Cosabella, who has just launched a "Sex and the City" lingerie collection inspired by the show's four main characters. The tour also includes an opportunity to follow in Carrie Bradshaw's footsteps with a stop at Jimmy Choo's Madison Avenue boutique where guests will swoon over the latest shoe indulgences. After an over-the-top day of glamour, guests can relax and people watch over a complimentary round of Sex and the City-inspired cocktails in the hotel's stylish Lobby Lounge where New York sophisticates and globe-trotters alike make up a cosmopolitan crowd in a chic and scenic atmosphere. Guests can choose their drink of choice from a special cocktail menu that includes the Mr. Big Apple Martini, the Carrie Cosmo, Miranda's Manhattan and the Flirtini Samantha-style. As a take-home memento, the package includes a complimentary Sex and the City Trivia game that recaptures the fun-filled adventures and details from the six-year series.
The Sex and the City Celebration Package is valid from April 15 -- December 31, 2008. Rates range from USD 2,000 for one night in a Hudson River View Room, to USD 3,000 for one night in a Central Park View Suite. Additional nights of accommodation may be booked at prevailing rates. This package includes one night's accommodation, private On Location tour for up to five people, Sex and the City Trivia game, up to two complimentary Sex and the City-inspired cocktails in the hotel's Lobby Lounge, one USD 200 Henri Bendel gift card and a VIP gift bag from Cosabella at Henri Bendel. Package rates do not include tax and service charges. A minimum of a week in advance is required for booking. This package is subject to availability. Reservations can be made by calling +1 (212) 805 8800 or toll-free +1 (866) 801 8880 or by emailing monyc-reservations@mohg.com.
About Mandarin Oriental, New York
A stunning fusion of modern design with stylish Oriental flair, Mandarin Oriental, New York features 248 elegant guestrooms and suites --- all with breathtaking views of Manhattan and Five-Star hospitality. Luxurious amenities include Asiate, the hotel's elegant restaurant; MObar created by noted interior designer, Tony Chi; the Lobby Lounge with dramatic views of Central Park; a 14,500-square-foot, Five-Star Mandarin Oriental Spa; and a state-of-the-art fitness center with a 75-foot lap pool. In addition, there is premium meeting and event space, including a 6,000-square-foot pillar-less ballroom with three walls of windows overlooking Central Park. Located in Columbus Circle's Time Warner Center, Mandarin Oriental, New York is in an idyllic location just steps away from world-class dining, shopping and entertainment, including the Broadway Theater District, Lincoln Center, Central Park, Jazz at Lincoln Center and the Time Warner Center's collection of upscale retail shops and restaurants.
About Henri Bendel
Henri Bendel, Manhattan's legendary Fifth Avenue boutique -- known for fabulous shopping events, frequent celebrity sightings, and dramatic window displays -- has long influenced the shape of American fashion with an unmistakable sense of style and a keen eye for the new and the next in women's accessories, cosmetics and apparel. One of New York's chicest shopping environments; Henri Bendel is a destination for the world's most stylish shoppers.
About On Locations Tours, Inc.
On Location Tours, Inc. is the largest TV and Movie locations tour company in the world. The aim of the company is to create tours that straddle fiction and reality, allowing tour guests to feel as though they are part of the TV show or movie. On Location Tours currently operates the New York TV and Movie Sites tour, the Sex and the City Hotspots tour, the Washington DC TV and Movie tour, the Central Park Movie Sites tour, the Sopranos Sites tour, and the New York TV and Movie tour on the Water.
About Mandarin Oriental Hotel Group
Mandarin Oriental Hotel Group is the award-winning owner and operator of some of the world's most prestigious hotels and resorts. Mandarin Oriental now operates, or has under development, over 10,000 rooms in 23 countries with 16 hotels in Asia, 14 in The Americas and nine in Europe and North Africa. Photography of Mandarin Oriental is available to download, in high and low resolution, in the Photo Library of our Media section, at http://www.mandarinoriental.com.
Photography of Mandarin Oriental, New York is available to download, in high and low resolution, in our online Photo Gallery.
For further information, please contact:
Tammy Peters
Director of Communications
Telephone: (212) 805 8820
http://www.mandarinoriental.com/newyork
###