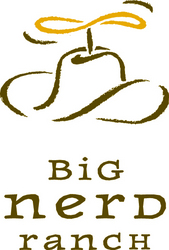 One of the trends I observed in students in previous classes was the desire of many of them to develop a more comprehensive understanding of Ruby and Rails 2.0
Atlanta, GA (Vocus) May 6, 2008
As part of its continuing commitment o providing practical and comprehensive training classes for web developers, system administrators and programmers, Big Nerd Ranch, Inc. announced a new two-part, seven-day Ruby on Rails training class, Ruby & Ruby on Rails Bootcamp, July 19-25, 2008. Based on the same premise behind the Objective-C & Cocoa Bootcamp and PHP & PostgreSQL Bootcamp, these combined training classes allow students to delve deeply into the subject matter and more finely hone their development skills.
Ruby and Ruby on Rails Bootcamp joins a two-day intensive class on Ruby taught by instructor Stacey Goff, with a five-day Ruby on Rails training class that places Ruby within the Rails context, led by acclaimed instructor, Charles B. Quinn.
"One of the trends I observed in students in previous classes was the desire of many of them to develop a more comprehensive understanding of Ruby and Rails 2.0," commented Rails instructor Charles B. Quinn. "I think that's a natural desire when you're working with something like Ruby on Rails, which combines a programming language with study of the framework that supports it. By taking that original five-day class and expanding it into a week-long class, students have an opportunity truly master the skills they need to understand and use what is becoming an ever-increasingly popular web development tool."
The first two days focus solely on mastering the Ruby programming language, the object-oriented development language that forms part of the core of Ruby on Rails. Stacey goes deep on understanding the Ruby shell and the Ruby interpreter, with an overview of the strengths and weaknesses of using an interpreted language instead of a compiled one.
The Ruby class also features:

Understanding objects, methods, and classes
Raising and handling exceptions
Using RubyGems to download and install Ruby libraries
Testing code with unit tests
The second part of the class focuses on how Rails 2.0 leverages the simplicity and power of Ruby to create powerful, database-driven web applications. In addition to a review of new Rails 2.0 features like REST, MultiView, and ATOM, topics include:

Understanding Rails components like ActiveRecord, ActionPack, ActionMailer, and ActiveSupport
Creating new and maintaining existing Ruby on Rails applications, from installation to deployment using Capistrano
Building and manipulating XML Documents by generating RSS feeds and creating Web Services
Designing secure and bug-free applications
Creating rich and dynamic interfaces with AJAX libraries
The Big Nerd Ranch incorporates intensive training classes for Unix and Mac OS X programmers and system administrators in a retreat setting outside Atlanta, GA. Class price of $4300 includes lodging, all meals, original instruction materials, 24-hour lab access, and ground transportation to and from the Atlanta airport. Students are encouraged to bring independent projects to class, allowing for input from classmates and individual instructor attention.
For more information, call 678-595-6773 or visit http://bignerdranch.com/.
###