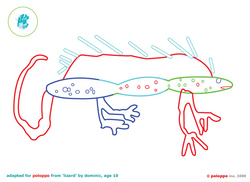 If it's down-time we need, we'll often just
San Francisco, CA (Vocus) May 6, 2008
Poloppo asks, "Are you the type of kid (or grown-up) who likes to practice your fine motor skills by coloring inside the lines? Or do you love to color outside the lines and scribble your dreams and fantasies down on a piece of paper? Either way, today's a great day to pick up a crayon and express yourself."
May 6 is World Kids Coloring Day. School groups from 13 countries will hold coloring events to raise funds for Save the Children's Rewrite the Future campaign, a program that helps children in war-torn regions secure a quality education.
Poloppo, the innovative company that turns children's art into fashionable, comfortable clothing, is celebrating World Kids Coloring Day with new Printables. They're coloring pages adapted from drawings by young artists from around the world - which you can print and color for free. Poloppo Printables.
Poloppo sees the possibilities in stimulating children's creativity by providing a different kind of coloring page, one that captures the freshness and immediacy of child art and encourages imaginative possibilities.
"My daughter and I often resolve things on paper. Firstly, the very act of drawing, with its repetitive yet free nature, has an immediate calming effect," says Poloppo's CEO, Cherie Aarts Coley. "If it's down-time we need, we'll often just "color in", as opposed to drawing or painting on a blank page. But the blank page is vital for a different kind of expression; we express our mood and feelings through the colors, shapes, characters and situations we create on the page through our imagination."
World Kids Coloring Day is also a great day to check out the Wearable Art :: By Kids(TM) collection at Poloppo. We're always finding new ways to reach out to children in our own neighborhood and around the world to encourage creativity and artistic expression. Today, they'll donate 25% of all sales of their raglan T's and baby onesies to Save the Children Shop Poloppo.
###