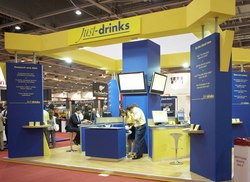 Bromsgrove, UK (PRWEB) May 7, 2008
Promising a new stand, boasting four 42" TVs relaying the latest wine and spirits news and an improved executive internet centre, here's why you should make stand G18 a must-visit:
1) Grab the free Little Yellow Book (on CD) - containing over £6,000 of research.
It's back, bigger and better than ever and once again on CD and this year its sponsored by KN Drinks Logistics.
On the CD you'll find UK wine and spirits data, complete market studies and briefings from just-drinks' research portfolio, a 12-month news roundup, interviews with leading players, company factsheets and the final results from the 2008 UK wine survey.
Boasting over £6,000 worth of research for free, you'll need to grab one of the 4,000 CDs before they run out!
2) Win a magnum of Pommery Champagne and the title of just-drinks wine and spirits brain 2008.
The just-drinks' wine and spirits quiz is back by popular demand for its second year and sponsored by Pommery. Stop by the stand and take the 20-question, quick-fire, wine and spirits quiz to see if you can top the leader board that day and walk away with the prize. Check out the leader board to see how your colleagues got on (then try and beat them)!
If you know your Chardonnay from your Riesling and which drinks brands have hogged the limelight on the pages of just-drinks this last year, fame and fizz could be yours. With a new quiz each day, winners will receive a magnum of Pommery Champagne and recognition on the just-drinks site (that's over 100,000 people looking at your picture)!
3) Check your email for free in The Executive Internet Centre.
For the forth year running, busy executives can stop by the just-drinks executive internet centre for complimentary access to the web. Available on stand G18, visitors can check their email, read the latest wine and spirits news and register for a free two-week trial to the industry's most popular online trade magazine, just-drinks.
4) Learn from the experts in online marketing.
With over eight years' online marketing experience just-drinks are aptly placed to help you understand the migration of business readers online, and more importantly, how to reach them. Stop by to discuss how they can help you reach new customers online.
Drop by stand G18 to find out how just-drinks can provide breaking news and analysis for the wine and spirits market, to pick up your free copy of The Little Yellow Book 2008, check your email and to try and become the 2008 Wine and Spirit Brain.
To arrange a meeting with a member of the just-drinks team, register as a visitor to the London International Wine Fair, and to read the latest industry news visit: http://www.just-drinks.com/liwf08.
About just-drinks
Since 1999, http://www.just-drinks.com has developed into the leading and most respected growing drinks industry trade site globally. The site's unique news and research content is produced and sourced via a dedicated editorial team, worldwide network of correspondents and content partnerships. In addition, the http://www.just-drinks.com research store provides instant access to over 4,000 market research reports.
###