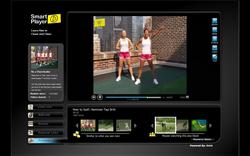 New York, NY (PRWEB) May 7, 2008
5min.com, the leading instructional video website, revealed the launch of a new and improved version of its specialized flash player, the Smart Player. 5min's latest innovation is the first Flash player tailor-made for how to videos, providing an accessible one-click how-to video learning experience.
The Smart Player was designed specifically to enhance the viewing experience of instructional and DIY videos, allowing viewers to access a complete knowledge solution consisting of video, text, images, links and detailed storyboards, all within the video watch page itself. This comes in addition to the capabilities offered in the previous version of the Smart Player, where viewers can watch the video in slow motion, advance frame by frame, zoom in and out, and print all the relevant info pertaining to a certain video. Another feature allows viewers to instantly access similar videos as well as videos that other viewers liked, offering a steady stream of new, targeted content.
The Smart Player's breakthrough capabilities are available in all display sizes, in the standard watch page display as well as in full-screen mode and even when embedded - meaning consumers can utilize the Smart Player's features on their own blog or website.
The Smart Player is expected to make waves outside of 5min as well, offering an ideal how-to video solution for potential business partners and external content publishers, who will undoubtedly clamor to utilize a player with such impressive capabilities for their own websites.
About 5min:
5min is an instructional website that offers DIY and how to videos. 5min's basic philosophy is that everybody is an expert in something and has something to teach others, so why not share that knowledge for the better of the world? 5mins continues to build on this philosophy and created the "smart player" to help spread this knowledge.
# # #