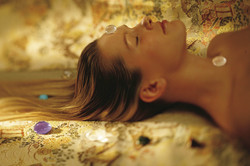 because freshly mixed salt and oil stimulate the skin more actively versus salt that's been soaking in oil for an extending period of time.
New York, NY (PRWEB) May 7, 2008
The Spa at Mandarin Oriental, New York is delighted to announce a new, breakthrough treatment that takes the enhancement of mental and physical wellbeing to a new level. The Clearing Factor is a three-to-four-hour treatment dedicated to restoring and clearing the body to a naturally revitalized state of balance and vitality using a carefully customized sequence of intensive clearing and detoxifying therapies including exfoliation, lymph drainage techniques, massage, clay body wrap and traditional cupping.
The core of The Clearing Factor lies in the use of gentle manual maneuvers known as Lymph Drainage Therapy (LDT), which helps restore balance to body and mind by moving stagnant energy. "Health and vitality is the body's natural state of being," explains Spa Director, Denise Vitiello. "The more toxins we hold on to, the farther away our bodies are from optimal health, both physically and emotionally. Some people who have experienced this special treatment use it as a stepping stone toward healthier living and change. It's also the perfect treatment to have when the body is transitioning from one season to another - in this case, it's a great 'spring cleansing' treatment."
The Clearing Factor was created by The Spa at Mandarin Oriental, New York's senior therapist Wafa Cunningham-Mzeghet. Wafa has been dedicated to the study of Lymph Drainage Therapy (LDT) for seven years and her passion is educating others to understand the fundamental benefits of lymphatic health. "Maintenance of a healthy, well circulating lymphatic system is the cornerstone of good health," explains Wafa, "which is why LDT is The Clearing Factor's key component. LDT helps re-circulate body fluids in areas of stagnation, regenerate tissues and filter out toxins so that the immune system is stimulated and the nervous system is brought to a balanced state. When LDT is administered, the body can experience all kinds of benefits, including decreased water retention and swelling, tissue regeneration, deep relaxation for better sleep patterns, relief from inflammation, stress, depression and fatigue, and a decrease in muscle spasm."
Treatment
After a brief consultation with a senior therapist, The Clearing Factor begins with a full body exfoliation using a freshly mixed blend of fine grain Dead Sea salts and Kama oil. "The scrub is a freshly mixed blend," Wafa explains, "because freshly mixed salt and oil stimulate the skin more actively versus salt that's been soaking in oil for an extending period of time." Dead Sea salt was selected for its high concentration of minerals, including potassium, magnesium and sodium, which are very therapeutic for the skin. The Kama oil is an organic and holistic product from India made up of essential oils of lemongrass, rosemary and geranium that contain a host of antioxidants. The exfoliation process cleanses and prepares the skin for the rest of the treatment and promotes relaxation, allowing for a more effective release of blockages and toxins. After exfoliation, the therapist does a gentle facial cleansing so the entire surface of the body is clean and prepared.
Next, the therapist administers LDT by focusing on specific areas of the body using soft-touch opening techniques that encourage movement and drainage of the lymph system. This aids in the recirculation of body fluids and eliminates areas of stagnation to optimize regeneration and give the immune system a healthy boost. "When the lymph system becomes congested," Wafa explains, "waste and fluids accumulate in the tissue hindering the normal physiological process. Sometimes the body needs help in removing this toxic build up of cellular waste and that's when LDT has been proven to be effective in accelerating the flow, decongesting and clearing the system."
Once the opening process is complete, a massage follows that is primarily Swedish in technique, due to its systemic approach in assisting the release of impurities from muscle tissue. After the full body massage, traditional cupping - an ancient method of body purification, is used on the back to draw more impurities to the surface for elimination.
A full body wrap using anti-oxidant Neem Black Clay follows the cupping treatment. "There can be mild skin irritation from cupping," Wafa notes. "So this special clay uses neem plant extract, aloe, clove (a mild natural analgesic), orange and lemongrass ingredients which have a very soothing and healing effect on the skin." The clay, made by the company Pan Puri, contains Pelan clay mud drawn from the lake bottoms of Latvia. "We chose this particular clay because of its exceptionally high concentration of organic matter which makes it very effective in drawing out toxins and restoring balance to the body." During the 25-30 minute body wrap, the therapist administers gentle, soft-touch lymph work on the face.
"Lymph acts like a pumping mechanism that enhances flow in the lymph system. This creates a vacuum that stimulates blood flow and enhanced circulation," says Wafa. "LDT on the face can act like a natural face lift by decreasing puffiness, improving circulation and firming the skin." Once the wrap is finished, the body is cleaned and hydrated with a gentle moisturizing lotion. Taking the time to relax in The Spa's tea lounge afterward is an important last step to acclimate the body after the treatment.
The Clearing Factor is exclusive to The Spa at Mandarin Oriental, New York. The three-hour Clearing Factor treatment with a senior therapist is priced at USD 675 Mondays - Wednesdays and USD 695 Thursdays - Sundays. The Ultimate Clearing Factor, a four-hour version of the treatment with its creator Wafa, is priced at USD 950 Mondays - Wednesdays and USD 975 Thursdays - Sundays.
About Mandarin Oriental, New York
A stunning fusion of modern design with stylish Oriental flair, Mandarin Oriental, New York features 248 elegant guestrooms and suites -- all with breathtaking views of Manhattan and Five-Star hospitality. Luxurious amenities include Asiate, the hotel's elegant restaurant; MObar created by noted interior designer, Tony Chi; the Lobby Lounge with dramatic views of Central Park; a 14,500-square-foot, Five-Star Mandarin Oriental Spa; and a state-of-the-art fitness center with a 75-foot lap pool. In addition, there is premium meeting and event space, including a 6,000-square-foot pillar-less ballroom with three walls of windows overlooking Central Park. Located in Columbus Circle's Time Warner Center, Mandarin Oriental, New York is in an idyllic location just steps away from world-class dining, shopping and entertainment, including the Broadway Theater District, Lincoln Center, Central Park, Jazz at Lincoln Center and the Time Warner Center's collection of upscale retail shops and restaurants.
About Mandarin Oriental Hotel Group
Mandarin Oriental Hotel Group is the award-winning owner and operator of some of the world's most prestigious hotels and resorts. Mandarin Oriental now operates, or has under development, over 10,000 rooms in 23 countries with 16 hotels in Asia, 14 in The Americas and nine in Europe and North Africa. Photography of Mandarin Oriental is available to download, in high and low resolution, in the Photo Library of our Media section, at http://www.mandarinoriental.com.
For further information, please contact:
Tammy Peters
Director of Communications
Telephone: (212) 805 8820
http://www.mandarinoriental.com/newyork
###